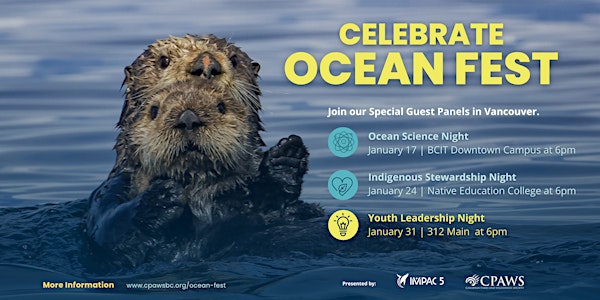 Youth Night | IMPAC5 Ocean Fest Speaker Series
Join us on Tuesday, January 31, at 312 Main to learn about youth leadership in marine conservation!
By Canadian Parks and Wilderness Society - BC Chapter (CPAWS-BC)
Date and time
Tue, Jan 31, 2023 6:00 PM - 8:00 PM PST
Location
312 Main St 312 Main Street Vancouver, BC V6A 2T2 Canada
About this event
Join us on Tuesday, January 31, at 312 Main: Sound and Reach Rooms to learn about youth leadership in marine conservation!
IMPAC5 – the 5th International Marine Protected Area Congress – is being held in Vancouver this February. Ocean experts and leaders from around the world will exchange stories and science-backed solutions to protect marine ecosystems for a healthier future.
Join the excitement at IMPAC5's Ocean Fest Speaker Series events in-person throughout Downtown Vancouver this January.
Space is limited - save your seat!
Doors open at 5:30 PM (PT), we'll begin presentations at 6 (PM).
Ocean Fest Speaker Series is presented by IMPAC5 and CPAWS-BC
TICKETS
Tickets are free but limited. We invite attendees to make a donation of $10, or whatever amount feels right to you, to support ocean conservation in BC. Donations can also be made at the door.
Visit cpawsbc.org
ACCESSIBILTY
Join us at Sound and Reach Rooms, Main Floor at 312 Main.
312 Main entrance (accessible) is off Cordova by the bus stop. The front desk is staffed 24/7 and you will be buzzed in upon arriving. It's located along several transit routes, nearby car parking lots, and indoor day-use bike racks for guests. All-gender washrooms are located by the front entrance beside the front desk and at the southeast corner of the ground floor.
Light snacks and refreshments will be provided. Please note any dietary or accessibility needs on your ticket request.
Face masks or coverings are encouraged at 312 Main. No proof of vaccination is required. Please stay home if you are feeling unwell.
This presentation will be hosted primarily in spoken English language.
SPEAKERS
Dr. Elaine Leung
Dr. Leung's career as a marine biologist has taken her around the world, including Antarctica, Alaska, Hawaii, New Zealand, and our beautiful home, BC. She has worked for various governments, universities, and nonprofits. Her research mainly focuses on threatened species: what's causing their decline and how to minimize those impacts.
Sea Smart School: Sea Smart is a Vancouver-based charity that was founded by Dr. Elaine Leung to inspire and empower youth to love and protect our oceans. They deliver innovative, solutions-based education programs like outdoor summer camps, school workshops, online courses and shoreline cleanups to empower youth to make the world a better place.
Emma Kingsland and Tasha Romeyn
Emma Kingsland and Tasha Romeyn are the project co-leads of the Year of the Salish Sea (YOSS). Emma is currently studying Biology and Resource Environmental Management at SFU. Tasha works with the federal government as a Jr. Policy Analyst, having recently graduated from Simon Fraser University with her Bachelor of Arts.
Year of the Salish Sea: It's currently the Year of the Salish Sea (June 8, 2022-June 7, 2023) and the organizers of the youth-led initiative are calling on everyone to learn more about their role in protecting the incredible ecosystem with which we are all deeply interconnected. This talk will highlight the importance of increasing collaboration and facilitating dialogue in the Salish Sea bioregion for the benefit of the health and management of the sea.
Nelly Leo and Ashley Bordignon
Nelly and Ashley were members of the 2022 cohort of CPAWS-BC's Youth Leaders in Conservation Program. Nelly works in the field of environmental education while serving as the Executive Director of Embark Sustainability. Ashley is a Longshore Worker and is actively involved in the Young Workers Movement in her union.
CPAWS-BC Youth Leaders in Conservation Program: Nelly and Ashley will share lessons learned from both their practice in the field as well as from their time at the Youth Leaders in Conservation Program on effective youth engagement including strategies for knowledge amplification and sustaining a movement.
Cover photo: Markus Thompson/ Thalassia Environmental
Questions? Reach out to: info@cpawsbc.org
About the organizer
The Canadian Parks and Wilderness Society was founded in 1963, making us one of Canada's oldest non-profit conservation organizations. The British Columbia Chapter was established in 1979 and is one of thirteen chapters across Canada. 
On a national scale, we are dedicated to keeping at least half of Canada's public land and water wild - reserved for the benefit of wildlife, ecological integrity, and for future Canadians to explore and enjoy. We accomplish these outcomes by working collaboratively with government, local communities, and First Nations Peoples. 
Together we can be a voice for British Columbia's wilderness.