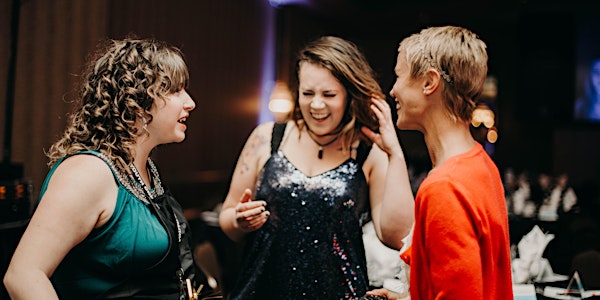 Youth One: Black Tie Gala - 2023
Youth One: Black Tie Gala - 2023 Presented by TD
When and where
Location
Sandman Signature Lethbridge Lodge 320 Scenic Drive South Lethbridge, AB T1J 4B4 Canada
About this event
5 hours 30 minutes

Mobile eTicket
We hope you join us for the all new 2023 - YOUTH ONE: Black Tie Gala presented by our friends at TD, taking place on Saturday March 25. It will be an amazing and youthful night out, with a very important cause to rally around.
The need for affrodable, safe, and supportive programs for youth is at an all time high. This is why Youth One is determined to make sure all youth and families in Lethbridge have access to mentorship based programs and supports during out of school times. Will you join us in this mission?!
The Goal - And whats up with the balloons?!: The need this year is to raise $100,000. These funds will provide 83 indivdual youth with full access to Youth One for the full year through our Launch Forward Initiative. For every $1200 collectively given, one youth receives a full school year of access to daily meals, afterschool programs, support services, mentorship and more.
White balloon - For every $100 you give you will receive 1 white balloon at your table (This represents 1 month of sponsorship for 1 youth to attend Youth One)
Blue balloon - For every $1200 you give you will receive a blue balloon at your table. (This represents 1 year of sponsorship for 1 youth to attend Youth One)
**Donations can be made before or during the event.**
Interested in becoming an event sponsor? You can download the event sponor packages here.
---------------------------------
THEME STYLE: Modern / Cocktail / Light / Botanical
DRESS CODE: "Have fun with it" - Smart Casual, Black Tie (If you really wanna wear jeans, wear em proudly-you wont be judged)
THE PROGRAM: A modern event that is fresh, fun and empowering, where you leave knowing exactly where your support is going and how it is impacting youth and families in Lethbridge.
Here is a little taste of what to expect:
• Live crowdfunding experience
• Everyones a VIP! Red Carpet for every attendee!
• Complimentary drinks at the door
• Live Entertainment - FT. Eric Braun Band, Dance to follow main program W/ Bamboo Guppies
• Catering by Prime Catering and complimentary wine.
• Live Auction and giveaways
----------------------------------
EVENT SCHEDULE
5:30 - Cocktails /Red Carpet
6:30 - Welcome/Intro - Youth Sponsorship Drive Kickoff
7:00 - Dinner / Live Entertainment
8:00 - Main program
8:30 - Live Auction/Door Prizes
9:00 - Final thanks /Live Music - Dance
Want more info on Youth One? Go to www.youthone.ca
-------------------
About Youth One:
Youth One provides mentorship based, after school programs and support services for youth ages 11-18. Programs are designed to give students a community of belonging, support and guidance during their most formative years.
History:
In 2014, Youth One launched because of a major need in many communities: Affordable, quality driven, mentorship based programs supporting youth after school. In Canada, almost 1 in every 2 youth will grow up without a mentor or role model in their life. This means many youth are going through life without necessary guidance and support during their most formative years. Research tells us when a youth has even ONE positive role model/mentor in their life it dramatically reduces many risk factors such as drug and alcohol abuse, crime rates, mental health issues, drop-out rates etc. For this reason, we are determined to make sure no youth has to figure out life alone. We firmly believe that when youth are supported to live out their full potential, the future health of our community increases. Since launching in 2014, Youth One has supported thousands of individual youth through their middle school and high school years. This has been done through after-school drop in programs, support groups, leadership training, food services, life skill development and more.