Description
Update: This event is sold out.
Be Inspired is pleased to announce Youth Social Brunch.
In this program for brothers and sisters of ages 10 - 17, the focus will be on embracing our identities and overcoming our insecurities as Muslims living in the west. Our guest speakers will be addressing this increasingly important topic.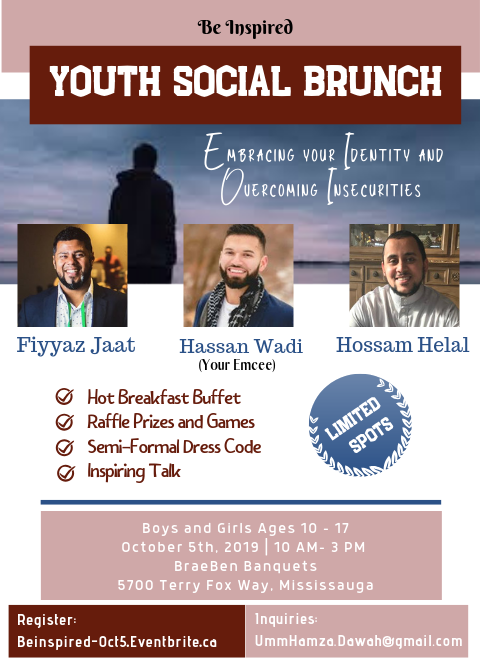 How many teens these days are influenced by inaccurate representations of our media and how does this influence their identity as a Muslim individual? What does it mean to have an identity in Islam? How can we cater to the needs of our youth and help them overcome insecurities instilled by our society? These will be some of the questions that will be addressed by our guest speakers.
As always, the goal of this event is for our youth attendees to leave this session feeling assured and inspired to carve their pathways using the right knowledge and guidance provided by Islam. It will be a great opportunity to interact with peers and unitedly overcome the difficulties our youth faces in a friendly and inclusive environment.
This will be a formal interactive event that will be followed up with fun activities, delicious food and an inquisitive Q&A session. We have some exciting ice breakers and games planned alongside the seminar.


About Br. Fiyaaz Jaat
Br. Fiyyaz Jaat currently serves as the Director for the Youth Development department for ISNA US. He is a well sought out advisor, counselor, and speaker. He attended ISNA Elementary under the guidance of Sh. Abdalla Idris Ali, and studied computer science at Ryerson University. As MYNA Toronto's former advisor, he has dedicated his life to empowering youth with leadership skills as they explore their identity in the West. He hopes to bridge cultural and communication gaps between parents and teens. Fiyyaz currently sits on the ISNA school board and is a former member of the majlis youth council which governs ISNA's youth department. His most recent project co-founded along with his wife, Blackstone Youth is a mentorship program for Muslim youth, placing them in groups with mentors who suit their needs and help them to reach their full potential.
As a dynamic role model and leader, and a caring mentor, Br. Fiyyaz is beloved by youth and parents alike. He has presented at community events, masjid, high school, and university events on numerous topics across Canada and the United States and can always be found at a MYNA camp near you!


About Sh. Hossam Helal
Shaykh Hossam Helal is currently a chaplain at Brock University, a student at U of T and Al-Azhar, and a Youth Counsellor and Educator at ISNA Canada. He has served as Imam, Khateeb, and instructor for 10 years at several Masajid and Universities throughout Canada and the United States. He is also the founder and instructor of the Qur'an Journey.

He memorized the Quran at the age of eight and has since received several Ijazahs in its various recitation styles. He completed his Islamic education in Quran exegesis through Al-Azhar University and studied under the guidance of several Shyookh including his father, Shaykh Ibrahim Helal, an instructor at Al-Azhar. He completed his education in Health & Disease, Near & Middle Eastern Civilization, Sociology, and Neuroscience at the University of Toronto.
He currently resides in Hamilton, Ontario, Canada with his wife and family. He loves soccer/football, horseback riding, videography, sushi, swimming, and programming.
About Dr. Sidra Hasnain
Sidra Hasnain completed her undergraduate degree from McMaster University and was subsequently accepted to 4 medical schools in Ontario. She chose to pursue her Medical Doctorate degree at the University of Toronto where she received multiple awards and career development opportunities:
• John Wolfe Mccoll Memorial Award for Academic Success
• CREMS Award (Comprehensive Research Experience for Medical Students) for Medical Research
• Dr. Antonio Ocana Carmona Memorial Award for interest in Nutrition and Disease Prevention
• OBGYN: Reproductive and Sexual Health two month experience in Kenya
Dr. Hasnain has a strong interest in personal development and hopes to inspire others to establish a growth mindset. As such, she has founded Optimal Health: Mind, Body & Soul to help individuals cultivate the best versions of themselves in all aspects of their lives using an evidence-based approach within an Islamic context.

About Br. Hassan Wadi -
watch his invite
here
Br. Hassan Wadi is a fitness expert, speaker, and philanthropist. As a Personal Trainer, he has been recognized as one of the Top 10 Fitness Professionals in Canada from Canfitpro. Within Toastmasters (International public speaking organization), he is currently the President of the City of Mississauga club and has been a successful Speech Contest Champion.
As a philanthropist, he is very involved with charitable activities in his local mosques at ISNA and Malton Islamic Centre. Hassan believes in connecting his mind, body, and soul through his passions for speaking, fitness, and religion.
About Sr. Ayah Elmallah - Spoken Word Artist
Ayah Elmallah is a Grade 10 student. She is a graduate of MAC Maple Grove School and currently goes to SJAM in Waterloo. She has memorized 20 juz of the Quran, Alhamdullilah, and is an avid reader and writer. She was raised in a family that advocates for social justice and is one of her interests and topics of writing, especially when it comes to issues affecting Muslim students.
She is also a rep soccer player and has been playing since she was 5. She is also the only referee in the Waterloo region that wears a hijab. Another passion of hers is basketball and she plays for her school's varsity team. She also loves traveling and has been from Eastern to western Canada. She has performed umrah, visited Egypt many times, Austria, Germany, England, and France. She recently visited the States where she competed in MIST nationals. She won first place in the Being Me Talent competition as well as first place in the SAM Poetry Slam. She has performed at the University of Waterloo, Wilfrid Laurier University, Black Brilliance conference in the Waterloo Regional District School Board as well as at their headquarters.
She was recently chosen to do a TED Talk. Spreading a message is important to her through her poetry. She also loves skateboarding and snowboarding. She currently resides in Waterloo with her family. She has 2 brothers and a sister.
Recap video of our last Youth Social Lunch...
[click on image below, background nasheed vocals only]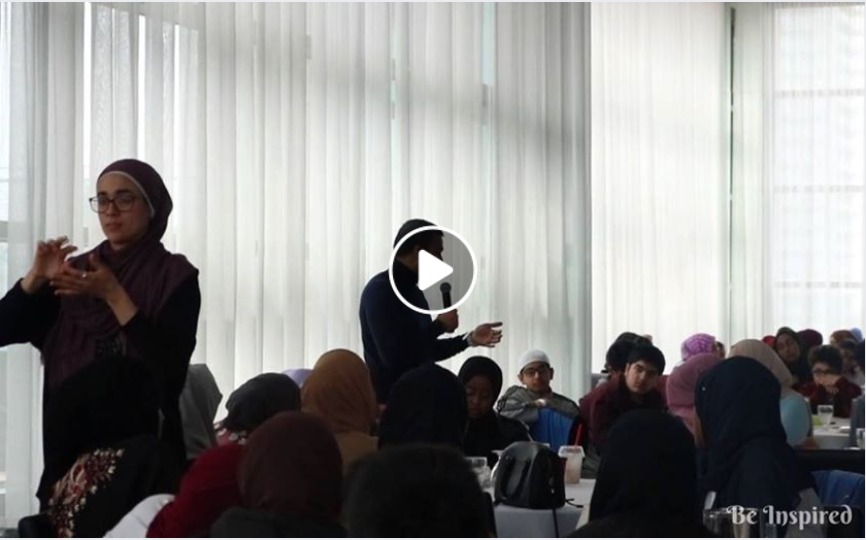 Photo album of our last Youth Social Lunch.
For additional inquiries email ummhamza.dawah@gmail.com
Note:
This is a youth-only drop off program, parents/adults are not allowed
We're not responsible for the loss of any personal belongings and/or injury due to inherent risks of any sport/game
By registering you give us (and our appointed photographer/videographer) consent to take event photos/videos which may be published on our upcoming website, our social media, and other media to promote our programs
Registration fee and program details are subject to change, without any notice
We always mention confirmed guest speakers, there could be changes due to unexpected situations
We reserve the right to postpone or cancel due to low enrollment, inclement weather conditions, or any unforeseen circumstances beyond our control. In a rare event when this happens, registrants will have the option to either receive a full refund or transfer the same registration to the same or similar event at the new, future date