| | |
| --- | --- |
| Youth Social Entrepreneurship Webinar Series | |
Event Details
Youth Social Entrepreneurship Webinar Series
Are you a young person interested in social entrepreneurship? Or an organization working with young people interested in learning more about how you can incorporate social enterprise into your work?

Starting March 2013, The Community Social Planning Council of Greater Victoria is launching a new webinar series on Youth Social Entrepreneurship, in partnership with the Canadian CED Network. The webinars are an opportunity to learn about how young people and youth serving organizations are using social enterprise in creating sustainable livelihoods. The webinars will reflect on the successes and challenges of operating successful and well-functioning youth-led and youth serving social enterprises. Presenters will discuss a variety of local, regional and national best practice examples.


Who should attend:
Young people interested in social entrepreneurship
Non-profit or other youth serving organizations interested in using a social enterprise model with their clients
Funders, community partners, local government stakeholders interested in learning how to scale up the sector.

Webinar 1: Creating Opportunities for Young People through Social Enterprise
March 12, 2013 12:00- 1:00 pm PST (3 pm EST) - view recorded webinar

Social enterprise organizations are supporting youth in achieving sustainable livelihoods through innovative programs and initiatives, world-wide. Learn from the organizations through their long experience in the areas of food security, youth engagement, homelessness and employment creation and how they are using social enterprise and community economic development models in providing valuable opportunities for young people.

Presenters:

Santropol Roulant, a Montreal community centre that has been using food as a vehicle to break social and economic isolation between generations and cultures and creating innovative ways of youth engagement.

Eva's Initiative, a Toronto based organization offering innovative programs and services for homeless and at-risk youth to assist them reach their potential to lead productive, self-sufficient and healthy lives.

LOFT Youth Centre for Social Enterprise and Innovation, is a multi-use space that nurtures creativity, community engagement, social enterprise and entrepreneurship amongst youth in Toronto through three in-house social enterprises based in art, music, food and innovation.


Webinar 2: A Spotlight on Young Social Entrepreneurs
When: March 26th, 2013, 12:00- 1:00 pm PST (3 pm EST) - view recorded webinar

Young people the world over are leading a new wave of social innovation and social entrepreneurship- creating social change, supporting community economies and forging new ways of work. Learn from young people in our communities about what motivates them and inspires them about social entrepreneurship, what are some of the successes and challenges they've faced along the way. This webinar is especially relevant for anyone interested in applying for our partnership training and business development program with Community Micro-Lending, Launch!

Presenters:

Kanika Gupta, founder of Social Journal (SoJo), a web based learning tool geared towards youth passionate about social change and building social ventures. The development of SoJo was influenced by Gupta's master's thesis experience in Canada-wide study on the factors influencing the start-up of youth-initiated social ventures.

Julia Norman, founder of social enterprise, the Didi Society, which is working towards empowering women through fair, direct trade and educating local youth on social justice issues and using marketing, sales strategies and traditional cooperative values.

Adam Olsen, is one of the Olsen family members who started local small business Salish Fusion Knitwear, producing modern knitted products with inspiration from Coast Salish art. The small business is providing employment opportunities for the local knitters and supporting the local art.
Webinar 3: 'Animating Youth Social Enterprise': the Role of Funders and Partners
When: April 30, 2013, 12:00- 1:00 pm PST (3 pm EST)
How do we take youth social enterprise to scale and build the sector? A range of funding and community partners are key to the success of building this emerging and vibrant sector of the economy. This webinar looks at some best practice examples of what funders and community partners, including post-secondary, business and service organizations, can and are doing to support strengthen opportunities for youth social enterprise, locally and nationally.

Presenters:
Charles Tsai, Director of Learning Networks for Ashoka Canada leads Ashoka's university strategy in Canada for supporting Changemaking and Changemakers within higher education. He is responsible for overseeing global campaigns supporting young social entrepreneurs and has educated and mentored hundreds of young Changemakers through Vancouver based charity Global Youth Fund and Ashoka's Youth Venture program.

Tracey Robertson, Regional Program Manager for Ontario Trillium Foundation supports the effective distribution and management of $4.7M annually to over 400 arts and culture, social services, sports and recreation, and environmental organizations in the Waterloo, Wellington and Dufferin areas. A recognized community builder with experience of 25 years, she thrives on collaboration, innovation and stimulating system-wide change. She shares her knowledge and continues her love for learning, as a part-time instructor for the Leadership Program and Social Entrepreneurship program at Wilfred Laurier University.

Jacqueline Powell, has participated in the program design of Ontario Trillium Foundation's Community and Province-Wide Programs for example, in facilitating the creation of Local Areas of Granting Focus for decision-making teams in 10 areas of the Province and has worked at the community level, co-managing the granting of $6M annually in the Durham, Haliburton, Kawartha and Pine Ridge area.  She is highly committed to providing youth with opportunities to "make money while doing good".  Along with Tracey Robertson, Jackie was seconded to co-design, with the Future Fund team, an innovative and proactive initiative to strengthen youth social entrepreneurship in Ontario.  

Brought to you by the Community Social Planning Council and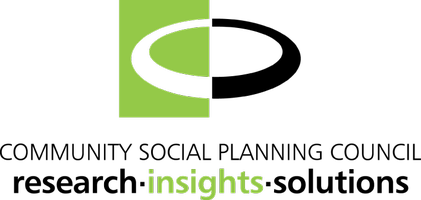 Organizer
Social Planning and Reserach Council of BC (SPARC BC)  was established in 1966 and is a leader in applied social research, social policy analysis and community development approaches to social justice. Our mission is to work with communities in building a just and healthy society for all. We are a non-partisan, registered non-profit society and a federally registered charity. We are a provincial organization with over 16,000 members, governed by a Board of Directors that is representative of all regions of British Columbia.
The Community Social Planning Council of Greater Victoria was established in 1936 and is an independent, charitable non-proft, community-based organization that brings people together to create a just and vibrant community in BC's Capital Region through research and leadership that result in effective community solutions.