Join the Toronto Youth Cabinet's Community Safety Working Group on, Wed. June 16th from 6:00pm - 8:00pm for this virtual Youth Talks event!
About this event
Around the world, people are having incredibly important discussions about racial injustice, inequity, and anti-Indigenous and anti-Black racism within police services. This event will give youth the opportunity to continue conversations around reform within Toronto and create a safe space to share personal experiences with public institutions, like the Toronto Police Service. It will also allow youth to safely express their grievances and voice their concerns, priorities, and unmet needs.
The Community Safety Working Group (CSWG) has a history of successful Youth Talk sessions that we aim to continue. This is the first event in the CSWG's Know Your Rights campaign which works to tackle deep-rooted systemic issues in Toronto and uplift marginalized youth voices.
This event will be facilitated by our CSWG team of volunteers so you can familiarize yourself with us for future events. We also aim to understand how the CSWG may direct our efforts and best support youth during this time.
We recognize the difficulty and sensitivity of these topics and we have provided an on call Community Healer to support your well-being during this discussion.
Join the Community Safety Working Group on Wednesday, June 16th from 6:00pm - 8:00pm for this virtual Youth Talks event!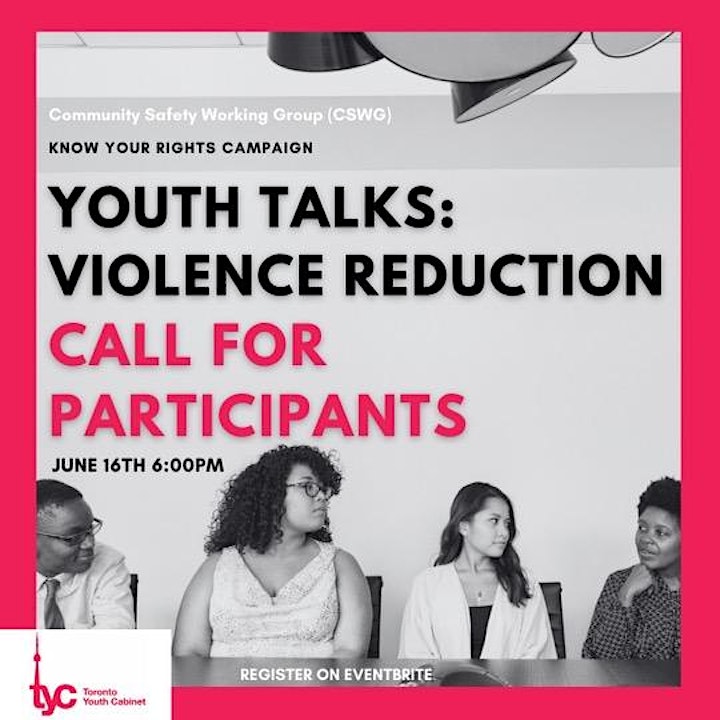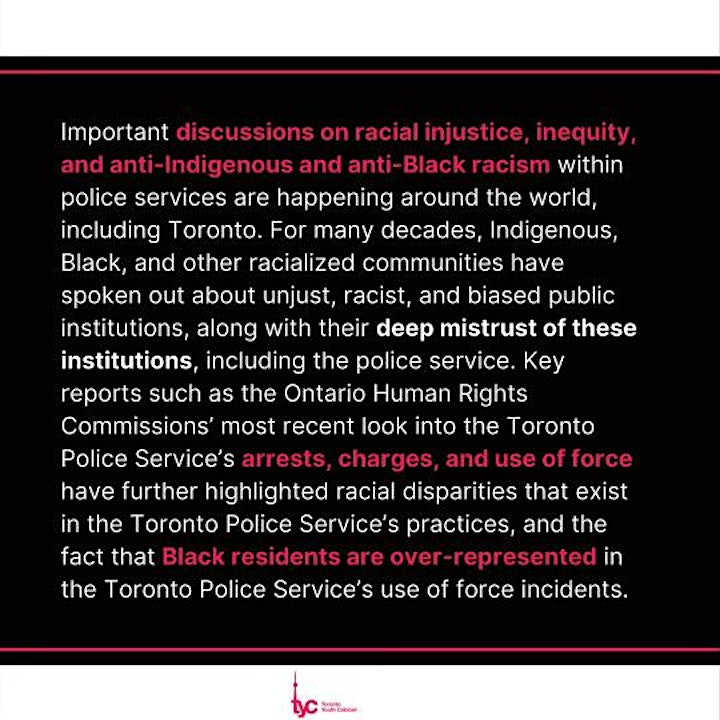 Organizer of Youth Talks: Violence Reduction
Established in 1998 by Toronto City Council, The Toronto Youth Cabinet is the official youth advisory body to the City of Toronto. The Toronto Youth Cabinet (TYC) is a youth-led advocacy group that promotes youth participation in civic affairs and in policy development.
TYC membership is open to youth between the ages of 13 and 24 who live, work, or learn in the City of Toronto.
Cabinet Meetings are open to those 13-24 and take place on the evening of the second Thursday of each month at City Hall.