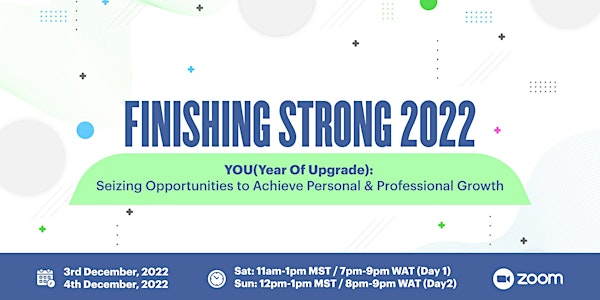 YOU(Year Of Upgrade): Seizing Opportunities to Achieve Growth
The year of YOU is here! Join us as we make plans on how to finish this year strong and prepare for an amazing 2023!
About this event
The year of YOU is here! As professionals, we've grown from the uncertainties brought about by the events of 2020 and adjusted to the new norm of hybrid work in 2021. The question now is what's next? We're putting it to you: GROWTH! This program will equip you with all the tips and tools you'll need to grow in 2023.
ABOUT THIS EVENT
Finishing Strong is a virtual yearly event where professionals from different industries and sectors gather together to do a retrospective of the year before it ends—and plan for what's ahead. Finishing Strong 2022 is tagged 'YOU(Year Of Upgrade): Seizing Opportunities to Achieve Personal & Professional Growth.'
This event aims to assist professionals in clearing their desks and concentrating on what is really important. The focus for this year's event is 'YOU(Year Of Upgrade)', and we want to achieve this upgrade by discussing how to 'Seize Opportunities to Achieve Personal & Professional Growth'. We want to provide practical tips and tricks on how professionals can achieve accelerated growth in their personal and professional life in the next 12 months. It also aims at motivating them to work towards becoming better versions of themselves through participating in this event.
The event will be a great opportunity for professionals to network with other professionals from diverse fields and sectors, get inspired by their peers' stories, learn new skills and techniques as well as make valuable connections across industries/sectors.
In addition to that, it also offers an opportunity for its participants to share experiences on how they have processed tasks during the year ahead, share insights on what worked well for them in 2021-2022, identify areas where they could improve their performance in 2022-2023; it could also help them set goals for themselves and make plans accordingly.
OBJECTIVES OF THIS EVENT
To help you identify your career objectives, advance your professional growth, and choose the most effective path to achieving them in light of your core values. To provide assistance with finding employment and advice on how to get hired by various companies; To introduce participants to novel ideas and strategies that can develop their careers; To increase knowledge of how we might advance our industry through innovation or technology, etc.; Last but not least, while we strive toward "Finishing Strong" as a group goal, this event attempts to promote teamwork.
Ultimately, YOU will be able to interact with like-minded individuals who have comparable interests, giving you a platform to support one another's professional development.
There would also be breakout room sessions that would feature prominent speakers discuss on topics such as:
Room 1: Building an impact-driven career: Leveraging digital transformation for competitive advantage
Room 2: Master The Art Of Networking
Room 3: Finance Management Skills Needed to Thrive in 2023
WIN A TRAIN INITIATIVE
Additionally, BNET Learning is offering five lucky winners free professional training as part of our "Win A Train" initiative. Therefore, you have a chance to be one of the fortunate winners on that day, who will receive a complimentary training session in any of the preferred courses that BNET Learning offers. To be eligible for the draw on that day, register here.
SPECIAL EVENT FEATURE
The Young Professional Scholarship Program - Tech Edition
The Young Professional Scholarship Program - Tech Edition 22/23 is a scholarship program initiative of Growth Caza by BNET Learning, designed to provide 60 young professionals in Nigeria with the opportunity to learn valuable tech skills. The scholarship program provides a package of training and support that will enable you to learn either Data Analysis, WordPress Website Development, or Scrum Master & Product Owner. This scholarship program, which has a value of over $20,000, will give young professionals the information and abilities they need to succeed in the tech industry through a fast-track program.
In order to ensure that these young professionals have the resources they need to succeed, the Young Professional Scholarship Program aims to give them the education and training they require. Through initiatives like this one, the program also wants to encourage Nigeria's upcoming generation of innovators and tech leaders.
To apply for this scholarship, simply fill out our application form and submit it before November 28th, 2022.
The two-day session is packed with different sessions and prominent speakers from all over the world, with vast experiences that we can all learn from.
Finishing Strong 2022 promises to be spectacular, so mark it a weekend to rejuvenate and get ready for an amazing YOU(Year Of Upgrade!).
You don't want to miss out on this!