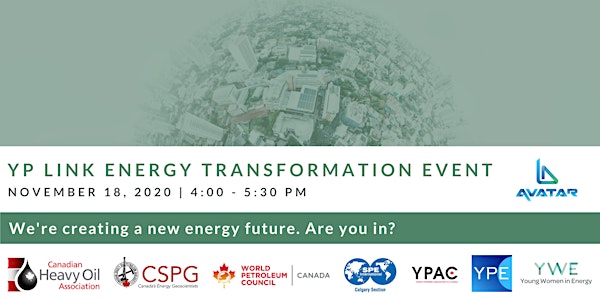 YP Link Energy Transformation
We're creating a new energy future. Are you in?
Refund Policy
Contact the organizer to request a refund.
Eventbrite's fee is nonrefundable.
About this event
Join your fellow young professionals as we explore how the Energy industry is transforming. This virtual event will host a multitude of speakers covering the following topics:
Indigenous Relations and Reconciliation
CCUS (Carbon Capture & Utilization Storage)
Geothermal
Bitumen Beyond Combustion
Diversity in Sustainability
Long-term Storage
Nature-Based Climate Solutions
Small Modular Nuclear Reactors
Petrolithium
Hydrogen

Speakers
Indigenous Relations and Reconciliation: Sandi Morrisseau, Indigenous Relations Advisor, Strad Inc.
CCUS (Carbon Capture & Utilization Storage): Patrick Kitchin, Director of Sustainability, Whitecap Resources
Geothermal: Kirsten Marcia, President & CEO, DEEP Geothermal
Bitumen Beyond Combustion: Paolo Bomben, Senior Manager, Clean Technology Development, Alberta Innovates
Diversity in Sustainability: Marie Jurcevic, Senior Sustainability Specialist at Seven Generations Energy and Co-Founder, Diversity in Sustainability
Longterm Storage: Joe Zhou, CEO, Quidnet Energy
Nature-Based Climate Solutions: Denise Chang-Yen, Manager, Nature Based Solutions, Shell Canada
Small Modular Nuclear Reactors: Paul McIntosh, Director, Business and Operations Integration, Terrestrial Energy
Petrolithium: Liz Lappin, VP, Corporate Affairs and Exploration, E3 Metals and President of Battery Metals Association of Canada
Hydrogen: Brian Brix, Manager, Strategic Initiatives - Hydrogen, ATCO
Agenda
4:05 pm Introduction to AVATAR 3.0
4:10 pm Opening Remarks by YP Link
4:20 pm Energy Transformation Presentations
5:30 pm Closing Remarks
Charity
We understand COVID-19 has had lasting effects on our local community. All funds collected from this event will be donated to a chosen Charity at the event. Attendees will have the opportunity to vote on where funds are best spent between the Calgary Food Bank, CUPS, or the Canadian Mental Health Association. Thank you for supporting YP Link's commitment to creating an equitable future for all in Calgary.
YP Link
The YP Link is a collaborative effort between the following young professional organizations:
Canadian Heavy Oil Association (CHOA) Developing Professionals
The Canadian Heavy Oil Association (CHOA) is a not-for-profit association, driven by volunteer members, to provide a community of energy professionals focused on heavy oil and oil sands projects and developments. The CHOA Developing Professionals group aims to encourage the attendance of developing professionals (individuals in the first 10 years of their career) at CHOA events, provide opportunities to connect with others in industry, and support the continued education of members.
Canadian Society of Petroleum Geologists (CSPG) Young Professionals
The CSPG Young Professionals group promotes the development of Canada's next generation of geologists. The group focuses on organizing events that will expand early career geoscientists breadth in geology, strengthen their soft skills, and create an enthusiastic community of young scientists.
Society of Petroleum Engineers (SPE) Young Professionals
SPE Calgary Section Young Professionals is a vibrant group of Young Professionals that seek to engage junior members, foster growth in the society and develop future leaders in the petroleum industry through continuing education, professional development and by offering opportunities to expand industry networks.
World Petroleum Council (WPC) Canada Future Leaders
The World Petroleum Council (WPC) Canada Future Leaders aims to develop a network of talented, young professionals in energy by enabling knowledge sharing and professional development opportunities with energy leaders. WPC believes that active thinking, sensitivity to new issues, and a powerful innovative potential are vitally important to the future of the petroleum industry, and are a unique perspective that young professionals can bring to the conversation
Young Pipeliners Association of Canada (YPAC) Calgary
The Young Pipeliners Association of Canada (YPAC) is a professional group of those working or studying to be in the pipeline industry. YPAC transfers technical, business and industry knowledge between young pipeliners to build the next generation of pipeline industry leaders and aims to advocate for Canada's energy infrastructure. Guided by our values creativity, bold vision and focus, YPAC is committed to advocating for young pipeliners and shaping the industry by enabling two-way dialogue between government, industry and academia on topics such as climate change, indigenous reconciliation, innovation and diversity and inclusion.
Young Professionals in Energy (YPE)
Young Professionals in Energy (YPE) is a global organization with over 40,000 members, constituting a presence in virtually every time zone across six continents. Our goal is to facilitate the advancement of young professionals through offering a forum for networking and career development. Our Calgary Chapter holds social, educational, and charitable events through which we encourage members to connect and have informed discussions about the energy industry.
Young Women in Energy (YWE)
Young Women in Energy (YWE) is an Alberta-based non-profit that aims to increase female voice, presence, development and leadership within the energy industry. We believe young women have the power to change the energy industry for the better. We equip our 4,500+ members through our awards, events and programs to help them 'change the face of energy'.

AVATAR 3.0
This event is in partnership with the AVATAR 3.0 Program, launching on November 18, 2020. AVATAR is a ground-breaking forum for real energy industry transformation, and they want you!