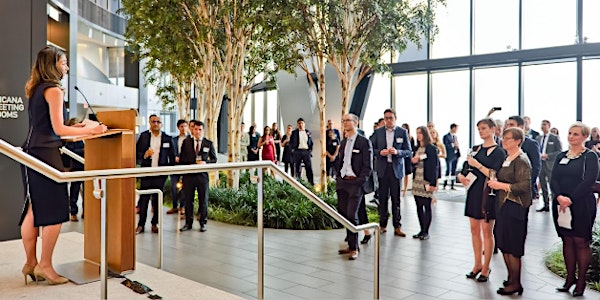 YPE Calgary - 2022 Future Leaders Dinner
The Calgary Chapter of Young Professionals in Energy (YPE) is pleased to announce the 2022 Future Leaders Dinner on October 14th
When and where
Location
The Bow - Mountain View Room, 54th Floor 500 Centre St S Calgary, AB T2G 0E3 Canada
About this event
►THE EVENT
The Calgary Chapter of Young Professionals in Energy (YPE) is pleased to announce the Future Leaders Dinner, back from hiatus for our third annual event.
This is a unique opportunity to create meaningful connections with the next generation of energy leaders while enjoying an elegant dinner at Calgary's landmark building, The BOW. The event will feature inspiring speakers and captivating entertainment.
►DETAILS
Registration will take place from 5:30pm - 6:00pm
Pre-reception and welcome cocktail will take lace from 5:30pm - 7:00pm 
3-course dinner, entertainment and speakers start at 7:00pm
Cocktail Formal Attire is requested.
►GIVING BACK
As part of YPE's focus on community involvement, YPE has partnered with United Way Calgary and Area. We have chosen United Way as our community partner because their Gen Next program aligns with YPE's commitment to provide high quality social and educational opportunities for young professionals, while promoting philanthropy in our city. We have set up a donation channel to the United Way through Eventbrite and we will also be hosting a fundraiser in support of United Way at the event.
►EVENING SPEAKERS
The Future Leaders Dinner will unite our members around YPE's three foundational pillars: networking, education, and community involvement. As such, the evening will feature three keynote speakers who believe in and promote the value of networking to create stronger communities and, most importantly, who have faith in the next generation of professionals to lead the future of our industry and city.
Vern Yu is the Executive Vice President and Chief Financial Officer of Enbridge. Vern has been part of the Enbridge team for close to three decades. He has held as series of roles with increasing responsibility across the company. including leading the liquids pipeline business development team in securing more than $30-billion in new growth projects, Enbridge's entry into European offshore wind, and completion of Line 3. Vern is a Professional Engineer and holds a Master of Business Administration (MBA) degree from the University of Toronto, as well as a Bachelor of Science from Queen's University. Vern also serves on the Board of the Calgary Economic Development and is the Chair of the Enbridge Tour Alberta for Cancer.
Elaine Almeida is an Associate Partner with McKinsey and is based out of Calgary. She serves energy, mining and large industrials clients across a variety of strategy and operations topics with a strong focus on energy transition, decarbonization and new business building. Prior to McKinsey, Elaine spent almost a decade at Shell across a variety of technical and commercial development roles.
Troy Cudmore is the Assistant Treasurer of Ovintiv. In his role he supports the strategy of the company and is responsible for providing leadership to the Treasury team. Prior to joining Ovintiv (formerly Encana), he gained finance experience at CIBC. Troy grew up on the east coast of Canada before moving to Calgary. He graduated with a Bachelor of Commerce, Finance degree from Saint Mary's University in Halifax back in 2005 and is a CFA® charterholder. Out of the office, Troy is involved in a number of young professional mentorships.
►OUR SPONSORS & PARTNERS
Cocktail Sponsor
NuVista is an oil and natural gas company actively engaged in the exploration for, and the development and production of, oil and natural gas reserves in Western Canadian Sedimentary Basin. NuVista's primary focus is on the scalable and repeatable condensate-rich Montney formation in the Wapiti area of the Alberta Deep Basin. We have created an organization in which operational and technical excellence and idea generation are encouraged in a culture that emphasizes accountability and performance.
Supporters
Morgan Stanley at Work provides workplace financial solutions that help employees achieve their life goals. Our comprehensive offering spans Equity, Financial Wellness and Retirement solutions, plus Financial Empowerment, so your workforce can realize the full potential of their benefits.
Enbridge is diversified energy company, uniquely positioned to help accelerate the global transition to a cleaner energy future, and we're doing it in ways that are ethical, sustainable and socially responsible. We operate across North America and beyond—powering industry, empowering society and safely delivering reliable, affordable sources of energy through our four core businesses: liquids pipelines, natural gas pipelines, gas distribution & storage, and renewable energy. We're advancing new low-carbon energy technologies—including hydrogen, renewable natural gas, and carbon capture and storage.
McDaniel & Associates has been providing oil and gas reserves evaluation services to the world's petroleum industry for over 60 years. We have internationally recognized expertise in reserves evaluations, resource assessments, geological studies, and acquisition and disposition advisory services. Through our consistently prepared evaluations and professional dedication to our clients, McDaniel & Associates enjoys the confidence of the world's leading private and public companies.
McKinsey & Company is a global management consulting firm that serves leading businesses, governments, non governmental organizations, and not-for-profits. We help our clients make lasting improvements to their performance and realize their most important goals. Over nearly a century, we've built a firm uniquely equipped to this task.
TD is a top 10 North American bank and aims to stand out from its peers by having a differentiated brand – anchored in our proven business model, and rooted in a desire to give our customers, communities and colleagues the confidence to thrive in a changing world.
Hosting Partner
Ovintiv is a leading North American energy producer focused on developing its multi-basin portfolio of oil, natural gas liquids and natural gas producing plays. With a strong foundation, deeply rooted values and a clear vision, the future for Ovintiv is focused on technology and innovation, a multi-basin portfolio of scale and top tier talent. Driven by innovation and a clear vision, Ovintiv is positioned to thrive and grow in today's market. By focusing on continuous operational excellence in our top tier assets, and a disciplined capital allocation approach, we are poised to lead in all areas where we operate.
►FAQs
1. What is the evening schedule and agenda?
Registration will take place from 5:30pm to 6:00pm
Reception and welcome cocktails officially start at 6:00pm, but the bar will open at 5:30pm
3-course dinner, entertainment and speakers start at 7:00pm
We will end the evening at approximately 10:30pm
2. Is there a dress code for the event?
Yes, we request that you please dress in cocktail formal attire.
3. Where can I go to check in / register?
Registration will take place in the lobby of the Bow; there will be signs directing attendees to 54th floor Sky Gardens where the reception will take place
4. What do I do if I arrive after 6pm?
Registration will close at 6pm; please provide your name to security in the Bow tower lobby and they will escort you to the 54th floor. Please call 403-370-2031 if you run into issues entering with security.
5. Where can I park my vehicle?
The Bow tower has an Indigo parkade, accessible from 5th avenue between Centre St and 1st St SE and 6th avenue opposite from The Bow. There is also street parking available on 5th and 6th avenues.
6. Will there be a coat check?
Yes, there will be a self coat check available.
7. Where will the dinner take place?
The dinner will take place in the Mountain View room of the 54th floor
8. I have special dietary requirements; can you accommodate me?
We have shared our guests dietary restrictions collected upon ticket purchase with the caterer. Please email us at calgary@ypenergy.com if you'd like to confirm you shared your dietary restriction.
9. How can I donate to your charity partner of choice, United Way?
We have set up a donation channel to United Way of Calgary and Area on the event page. You will also have a chance to donate to United Way during the event by participating in a 50/50 raffle.
10. Can I choose who I would like to sit next to?
The Future Leaders Dinner will have assigned seating by table during the dinner portion of the evening. Attendees at sponsored tables will be seated together.
11. Can I get a refund if I change my mind about attending?
Tickets to the Future Leaders Dinner are non-refundable and non-transferable
►PHOTO AND VIDEO DISCLAIMER
By entering the premises, you consent to photography, audio recording, and/or video recording, and release, publication, exhibition or reproduction of these materials to be used for promotional purposes (including but not limited to event photos, advertising, web content, social media), or any other purposes by YPE Calgary and its affiliates or representatives. You release YPE Calgary, its partners, and each and all persons involved from any liability connected with the taking, recording, digitizing, or publication of photographs, computer images, video and/or sounds recordings from any event affiliated with YPE Calgary.
By entering the premises, you waive all rights you may have to any claims for payment or royalties relating to the exhibition, streaming, webcasting, televising, social media publishing or other publication irrespective of whether a fee for admission or sponsorship is charged. You also waive any right to inspect or approve any photo, video, audio recording or other publication taken by YPE Calgary. Photos shared on social media by YPE Calgary or its affiliates or representatives may be re-shared and downloaded by others.