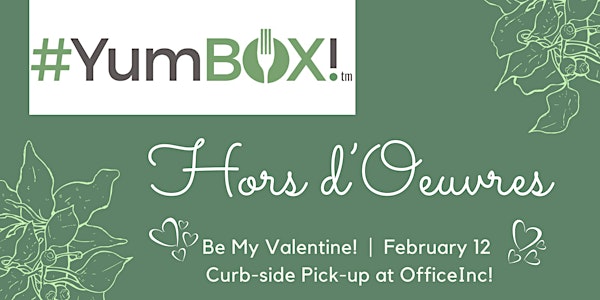 #YumBOX! Be My Valentine - Hors d'Oeuvres for 2
#YumBOX! Hors d'Oeuvres for 2 is chock full of ingredients to build a delicious charcuterie board, fruit & chocolate fondue, crudités, more!
When and where
Location
OfficeInc! Corp. 54 Cedar Pointe Drive Unit 1207 Barrie, ON L4N 5R7 Canada
About this event
This #YumBOX! for 2 will be ready to enjoy for a "Be My Valentine" Night on Friday February 12th, with curb-side pick-up that day from 12-3pm at OfficeInc! Corp. Supplies are limited - please order by 12:00noon on Tuesday February 9th or while supplies last.
Your box will be brimming with:
- fresh ingredients (including a variety of hard & soft cheeses, meats, olives, grapes, & candied nuts) & how-to instructions to build a delicious charcuterie board, plus a hand-crafted ash wood board by local artisan Angelique at Nature Supplied, hewn from a tree felled by her husband David of Integrated Woodlot Management, along with care instructions;
- our house-made roasted garlic hummus to enjoy with fresh crudités, and our hummus recipe;
- a par-baked baguette prepared by red seal chef Nikki Laurin of Ironwood Baking Co., ready to pop into your oven for finishing, along with virgin olive oil & balsamic from Olive Oil Co. in Barrie, & a ramekin to hold the oil & vinegar for bread dipping;
- fruit & chocolate for a dessert fondue, plus a small fondue warmer & instructions.
#YumBox! Be My Valentine - Hors d'Oeuvres for 2: $95 + HST
Add a copy of the #Yum cookbook that Deborah Foster-Stahle co-authored with Amy De Wolfe for $24.95* ($5 off the regular price).
For just $15 more*, add a #YumBOX! Hors d'Oeuvres Wine Guide with three wine recommendations (an Ontario, an inexpensive and a Vintages option) for each of the 4 courses of hors d'oeuvres developed by Trent Mayers of Wine Journeys. The guide will be provided in advance, so that you can source the wines you'd like from LCBO in time to enjoy with your box.
*HST and EventBrite fees apply.
Some of the ingredients in this box (and our other #YumBOX!es like Brunch for 2) will come in mason jars. Keep those jars & watch for our Canning Course this coming summer, or return those to be sanitized and re-cycled on our end, receiving $5 off your next #YumBOX!