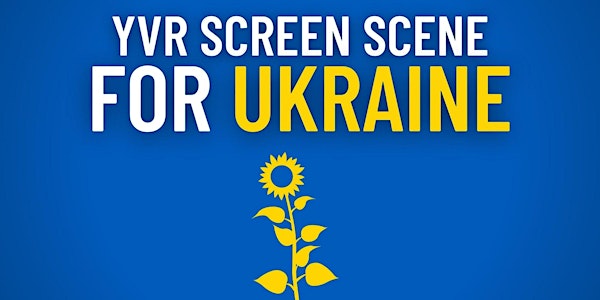 YVR Screen Scene For Ukraine
An evening in support of humanitarian efforts in Ukraine featuring a special screening of 'Maidan'
When and where
Location
VIFF Centre 1181 Seymour Street Vancouver, BC V6B 3N3 Canada
About this event
On March 30, the courage and resilience of the Ukrainian people will fill the big screen at VIFF Centre as part of YVR Screen Scene For Ukraine, an evening in support of humanitarian efforts in Ukraine.
The centrepiece of the evening is a special screening of Maidan, filmmaker Sergey Loznitsa's powerful 2014 documentary about the civil uprising against the regime of President Viktor Yanukovych that took place in Kyiv in the winter of 2013-2014. Maidan screened at Cannes Film Festival and was called "[the] most rigorous, vital, and powerful movie of 2014" by the Village Voice.
YVR Screen Scene For Ukraine will also include performances by bandura musician Ruta Yawney and Ukrainian folk singer Olesia Shewchuk, as well as a post-screening reception during which light refreshments will be served. The evening will be hosted by Ukrainian Canadian actor Adrian Petriw (The Dragon Prince) and podcaster Sabrina Rani Furminger (host and executive producer of the YVR Screen Scene Podcast, and herself Ukrainian and South Asian Canadian).
All money raised from YVR Screen Scene For Ukraine ticket sales will be donated to the Ukraine Humanitarian Appeal established by the Ukrainian Canadian Congress and the Canada-Ukraine Foundation.
YVR Screen Scene For Ukraine is presented by YVR Screen Scene with generous support from VIFF Centre, The Cinema Guild, and Pender PR.
This is a 19+ event.
***
ARE YOU UNABLE TO ATTEND THE GALA BUT WOULD STILL LIKE TO SUPPORT YVR SCREEN SCENE FOR UKRAINE? Select "Donation ONLY; no gala ticket" when prompted to purchase tickets.
Слава Україні! Героям Слава!