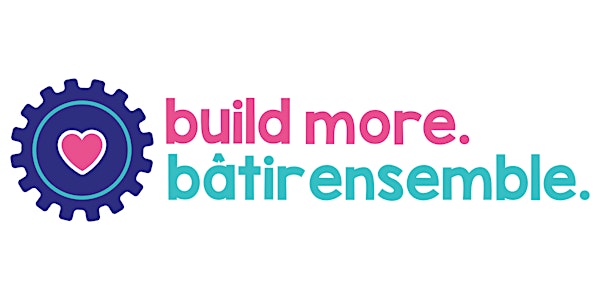 YWCA Techgyrls Build More
YWCA Techgyrls Build More. Build Together: An Online STEM Celebration YWCA Techgyrls Bâtir davantage. Bâtir ensemble : une célébration STEM
About this event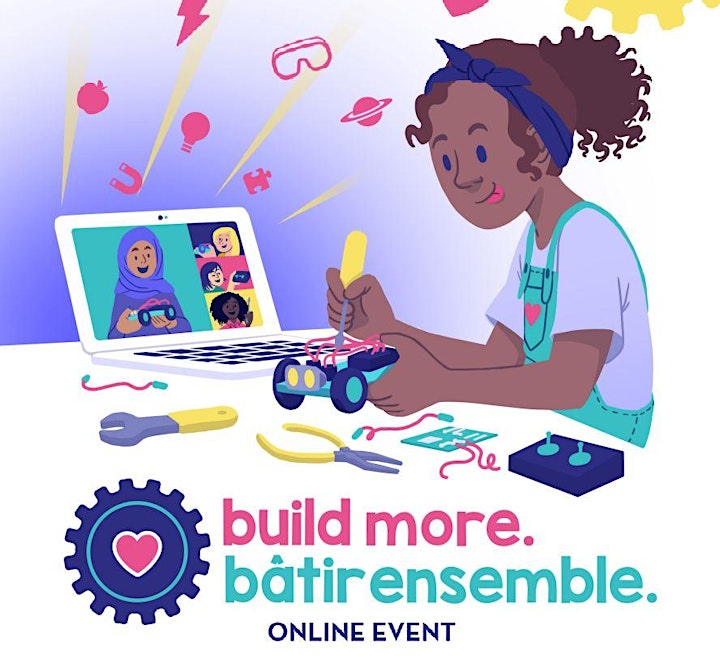 French to follow.
YWCA Techgyrls Build More is an online event for girls and gender-diverse youth ages 9-13. To celebrate, inspire, and engage young girls and gender-diverse youth, this event is being held on February 11th, International Day of Women and Girls in STEM.
The event will feature speakers of all ages who are working in or are passionate about STEM.
Spread over a full day, the event will have 3 - 2 hour blocks that will include:
A speaker who shares their passion and leadership journey
A speaker/facilitator who will build something with the participants
An opportunity for participants "Show and Shine" by sharing their building process or their reflection on the previous 90 minutes
and of course.. prizes and games.
In hosting this event, we hope to spark a spirit of possibility and make it interesting, fun and engaging for attendees.
Build More Kits
YWCA Techgyrls Build More Kits will be mailed to participants (in Canada) who register before January 30th (while supplies last). As part of the Build More kit, you will find materials to build as well as stickers, snacks, notebooks, pens, and other fun surprises.
Confirmed Speakers
Bhavishyaa Vignesh - Advisor @NextDNA | Teaches coding @Code Ninjas
Vanessa Vakharia - Founder of the Math Guru |Educational Innovator | Speaker | Author of Math Hacks
Andini Makosinki – Inventor and Writer
This event will be in both English and French. Interpretation will be provided.
Event Agenda
10am–11:30pm - Create. Connect. Celebrate.
11:30am–12pm - Wellness Break
12-1:30pm - Create. Connect. Celebrate.
1:30pm–2pm - Wellness Break
2pm-3:30pm - Create. Connect. Celebrate
Create. Join us as we use make some interesting things together. No experience necessary. You will be guided by an awesome Builder.
Connect. Share comment in the chat. And share what you have built and your process.
Celebrate. Hear about awesome Girls in STEM. Stick around for your prizes and applause.
Late registrations open till Sunday, February 5th.
No kit. No problem. We will offer building activities that require no materials and some that require simple household materials.
_______________
YWCA Techgyrls Bâtir davantage. Bâtir ensemble est un événement en ligne pour les filles et les jeunes de divers genres âgés de 9 à 13 ans. Pour célébrer, inspirer et engager les jeunes filles et les jeunes de diverses identités de genre, cet événement a lieu le 11 février, Journée internationale des femmes et des filles de science.
L'événement mettra en vedette des conférencières de tous âges qui travaillent ou sont passionnées par les STEM.
Réparti sur une journée complète, l'événement comportera des trois blocs de 2 heures qui comprendront :
Une conférencière qui partage sa passion et son parcours de leadership
Une conférencière/animatrice qui construira avec les participantes. (Les 120 premiers inscrits recevront tous les éléments pour leur construction par la poste.)
Une opportunité pour les participantes de « briller et démontrer » en partageant leur processus de construction ou leur réflexion sur les 90 minutes précédentes
Et bien sûr.. prix et jeux.
Trousses Bâtir ensemble
Les trousses Bâtir ensemble de YWCA Techgyrls seront envoyées par la poste aux participantes qui s'inscrivent avant le 30 janvier (jusqu'à épuisement des stocks). Dans le cadre de la trousse Bâtir ensemble, vous trouverez du matériel à construire ainsi que des présentoirs, des autocollants, des collations, des cahiers, des stylos et d'autres surprises amusantes.
Apprenez de nos incroyables conférencières:
Bhavishyaa Vignesh - Conseillère @NextDNA | Enseignante de codage @Code Ninjas
Vanessa Vakharia - Fondatrice de Math Guru | Innovatrice en éducation | Conférencière | Autrice de Math Hacks
Andini Makosinki – Inventeuse et écrivaine
Cet événement se déroulera en anglais et en français. L'interprétation en simultanée sera disponible.
10h00 – 23h30 Créer. Connecter. Célébrer.
11h30 – 12h Pause Bien-être
12h-13h30 Créer. Connecter. Célébrer.
13h30 – 14h Pause Bien-être
14h-15h30 Créer. Connecter. Célébrer
Créer. Rejoignez-nous alors que nous faisons des choses intéressantes ensemble. Aucune expérience nécessaire. Vous serez guidé par une bâtisseuse géniale.
Connecter. Partagez des commentaires dans le chat. Et partagez ce que vous avez construit et votre processus.
Célébrer. Découvrez des filles et femmes géniales en STEM. Restez dans les parages pour vos prix et vos applaudissements.
Inscriptions tardives ouvertes jusqu'au dimanche 5 février.
Pas de trousse à outils, aucun problème. Nous proposerons des activités de construction qui ne nécessitent aucun matériau et d'autres qui nécessitent des matériaux ménagers simples.