Event Information
Location
535 Hornby Street, 4th Floor
Skills 1 Meeting Room
Vancouver, BC V6C 2E8
Canada
Description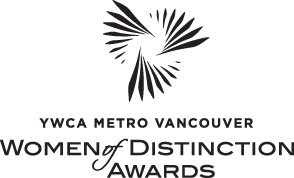 Consider nominating a woman or organization who inspires you! Recognized nationally, YWCA Metro Vancouver is proud to host its 35th annual Women of Distinction Awards in support of its 45 programs and services that help women, children, youth and their families. While recognizing women and organizations that are outstanding in our community, as the YWCA's signature fundraising event, the evening's proceeds support much-needed programs and services crucial to breaking the cycle of poverty.
YWCA Metro Vancouver accepts nominations for women who are driving positive change for women and children, either directly or by example and organizations that support the wellness and diverse needs of their employees. Nominating a woman from your organization or your organization is a great way to leverage marketing opportunities as the YWCA Women of Distinction Awards nominees often receive coverage by national, local and community print and web press.
Join in for this free event and learn everything that is involved with submitting a nomination. Get your questions answered and find out the inside scoop to ensuring your submission is successful. Refreshments will be served.
5:15pm Registration
5:30pm Presentation & Discussion
6:15pm Q&A—Get your questions answered
6:30pm Wrap-up
For more information on the Women of Distinction Awards please visit us at our website www.ywcawomenofdistinction.org.
Date and Time
Location
535 Hornby Street, 4th Floor
Skills 1 Meeting Room
Vancouver, BC V6C 2E8
Canada