Description
Join us for the Saskatoon film premiere and discussion of the award-winning internationally renowned short documentary film, "Salaam B'y - A Story of a Muslim Newfoundlander" (www.salaamby.ca), a Canadian story celebrating the power of 'communities of kindness'. The screening will be followed by an open Q&A with the creators, Aatif Baskanderi and Dr. Nazia Sharfuddin. We hope you will enjoy the inspirational story and participate in the conversation on inclusion, innovation and the value of kindness. The screening is presented in partnership with the Saskatoon Open Door Society and Inspirit Foundation. Film is rated for all ages and everyone is welcome!
Film trailer: www.youtube.com/watch?v=6ctPXHWhg1A.
Notable achievements include:
International screenings by the United Nations

Global Migration Film Festival.

Winner of "Best Documentary Film 2018" at the Canadian Diversity Film Festival, Canada Shorts, and Muskoka Film Festival.

Selected by over 15 film festivals across Canada, the USA and globally via the United Nations, including I

raq

, Cyprus, Uganda, Bulgaria, and Romania.

Nationally-aired CBC Radio documentary on

The Sunday Edition.

Film crowdfunded by 230 donors from 19 countries.
Film Synopsis
Aatif Baskanderi grew up in a place where not many people looked like him or believed in the same things that he did. As a Muslim child of Pakistani immigrants, Newfoundland became home. His experiences growing up on "the rock" was like something out of a storybook. On this cold, isolated island in the Atlantic ocean, Aatif learned sincerity and appreciation for others that would set him up for remarkable success in life.
As an engineer with a keen interest for social justice, he embarked on a journey to connect the two. Guided by his Muslim & Newfoundlander values, this led him to studying at the London School of Economics, researching Fair Trade farmers in Palestine, working on malaria prevention in Sierra Leone, informing science policy in Canada, the UK & Europe, leading Engineers Without Borders across Canada, and currently working as an innovation specialist at a global power company in Calgary, Alberta.
While things are going well for Aatif, the same cannot be said for his home province, which is facing tumultuous economic times. In hopes of inspiring a new generation of Newfoundlanders to live their dreams, Aatif returns to Newfoundland to share his story of pluralism and tolerance.
At a time of increasing racial and religious friction across the west, Aatif's story is a reminder of what can happen when a community welcomes newcomers with open arms.
Panelists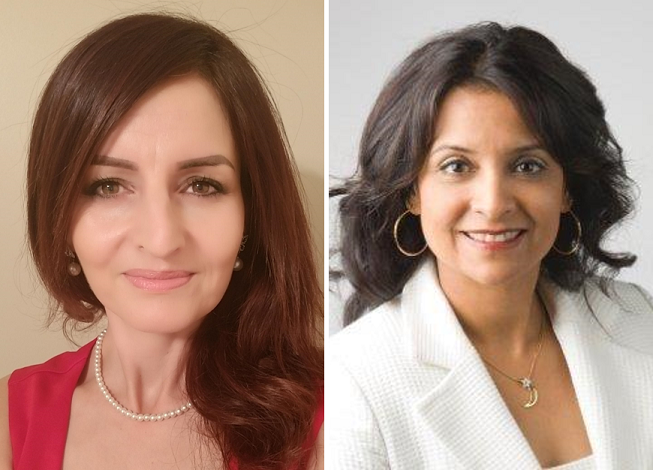 Nazia and Aatif are excited to be joined by two amazing Saskatoon community leaders for the post-film discussion, Dr. Rana Mustafa and Zeba Ahmad.
Dr. Rana Mustafa is a visiting professor at the University of Saskatchewan and the R&D Food Scientist at Prairie Tide Diversified Inc. Dr. Rana Mustafa has built her international expertise in food science, and product development for over ten years of research and teaching at both universities and industries in France, Syria and Canada. Rana loves folk music and art. She presents traditional Syrian songs with her son Anas Mohamad in many multicultural events in Saskatoon.
Zeba Ahmad is a tireless volunteer in the community, and she brings enthusiasm to all her leadership roles. She served as past board chair of the Royal University Hospital Foundation and the Saskatoon Community Foundation. She is also a former inaugural chair of Gold Medal Plates Saskatoon, a former board member of the Saskatchewan Cancer Agency, and most recently, a volunteer for the Thundering Ahead Campaign for Wanuskewin Heritage Park and board chair for the Saskatoon Public Schools Foundation. For her community involvement Zeba has received the Sovereign's Medal for Volunteers in 2007 from the Governor General and was named a Top 100 Alumni of Influence, College of Pharmacy Nutrition in 2014. She was also the recipient of the Leadership Saskatoon Community Leadership Award in 2016. For the past six years, she worked as a Business Development Executive at EY Saskatoon. She now shares her time between EY and the Saskatoon Public Schools Foundation as the Executive Director. Zeba is most proud of her two children, Faraaz Akhtar and Sakeena Akhtar. Both are alumni of Evan Hardy Collegiate and the University of Saskatchewan. Faraaz finished his law degree in May 2018, and Sakeena works as an engineer for Husky Energy.