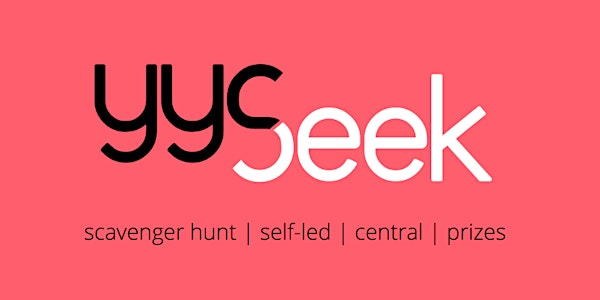 Location
Calgary
City Centre
Calgary, AB -
Canada
Refund policy
Contact the organizer to request a refund.
Eventbrite's fee is nonrefundable.
This scavenger hunt will bring adventure and fun as you and your team compete on your own timeline, scouring central Calgary for answers!
About this event
REGISTRATION IS NOW CLOSED. Follow us @yyseekcalgary on Instagram for updates!
The Basics:
You're sent 50 riddles for you and your team to solve in any order throughout the week of July 3-9. You'll travel through central Calgary (see map below for boundaries!), see striking local spots, make memories, and support the Calgary Food Bank. Send back all the answers you found by the last day and hope to win one of our awesome locally-donated prizes! Follow us on Insta @yyseekcalgary
PRIZES
• Experience at Aussie Rules Piano Bar (valued at $235!)
• Hair cut and travel pack of Amika products from Plush Beauty Bar
• Gift card to Righteous Gelato
• Axe Sharpening Class at Kent of Inglewood
• Gift card to Sunnyside Art Supplies
• Clothing from GTFOutside Company
Stay tuned for the latest updates!
Prizes will be awarded to the top teams based on point earnings. Judges will divide prizes in the unlikely event of a tie for first place.
TIMELINE
Teams receive the Hunt List at 10am July 3 and can complete clues on their own timeline throughout the week. Hunting can be done at your own pace and at any time of the day, as all answers are found outdoors in public spaces. You must submit answers before 10pm July 9. There is no advantage to submitting earlier in the week, so long as you submit before the deadline.
TEAM
Each team should consist of 2-4 adults (age 15 and above). One-person teams are allowed, but not recommended. Each team must have means to move around central Calgary. Participants must be respectful of the yyseek Rules (below). Participants can be any age, but be advised that clues were designed with adults in mind. Teams may need internet to solve and locate clues. Teams will create a team name.
COST
Each team will pay $40 to register, $20 of which will be given to Calgary Food Bank. If cost is a barrier, we will happily accommodate; please contact yyseekinfo@gmail.com.
SETTING
Teams will move throughout central Calgary to complete clues. See below for a visual.
TASKS
Each team will receive a yyseek Hunt List when their time begins, which will direct participants through central Calgary. Answers will all be found outdoors and will not require you to touch or handle anything. Teams can attempt as many tasks as they choose and can simply ignore any remaining tasks. yyseek is not laid out in a linear treasure hunt fashion, so teams must create their own strategy.
NOTE
This one-time event is created and run by a local Calgarian with the goal of providing a community-building event that gives voices and support to Calgary local businesses and Calgary Food Bank.
RULES
(Credit to the University of Chicago Scavenger Hunt Organization Committee, from whom I adapted the following rules.)
Free will. Participation in this event is purely voluntary and meant for enjoyment. The Event Host takes no responsibility for your actions throughout the Hunt (or consequences thereof).
Fair Play. Sabotaging teams or hunt spots can lead to immediate disqualification. Teams are not permitted to copy others or share tips at any point.
Time. Teams will be given their Lists at 10am July 3. Any submissions returned after 10pm July 9 will not be awarded points.
Rules. yyseek will require you to move throughout central Calgary. Please respect all local laws as you move through the city
Prizes. The prize(s) will be awarded to the winning team(s). Teams are responsible for dividing the prize among themselves.
Decisions. All decisions of the Judge(s) are final including point total calculations.
Contact. Polite questions and communication with the Event Host welcome at any time. yyseekinfo@gmail.com.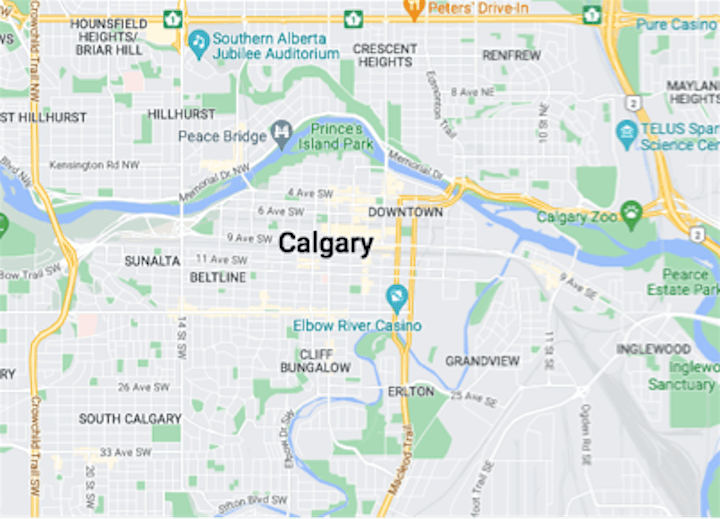 See the Google Map image for our Scavenger Hunt limits! There is also a sample clue from yyseek 2021. Can you figure out where you'd go to find the plaque?