Description
This year's theme:
The Journey to a Circular Economy
Join the City of Toronto and local waste reduction innovators for a provocative and interactive discussion about the circular economy and becoming a zero waste city. Join the growing movement of waste conscious citizens and learn how you can get involved in making a difference. New this year, in addition to connecting with Metro Vancouver's Zero Waste Conference for 2 sessions, we will also host live and local engaging programming.
Information:
The Zero Waste Conference Toronto will take place on November 8, 2018 is a free event that will feature interactive and inspiring speakers and is open for all to enjoy.
Agenda*:
8:30 am – 9:30 am Registration, light refreshments
9:30 am – 9:45 am Welcome & Introduction by City of Toronto staff: Annette Synowiec, Manager, Business Operations & Change Initiatives & Charlotte Ueta, Manager, Waste Management Planning
9:45 am – 10:15 am Toronto Keynote: Jagger Gordon – Executive Chef, Caterer, and Founder of 'Feed Families' and 'Feed It Forward'
10:15 am – 11:15 am Panel Discussion: Local Voluntary Approaches to Food Waste Reduction
Moderator: Jagger Gordon
Panelists:
• Shabeeb Hasan – Road to Zero Waste
• Dihan Chandra – The Spent Goods Company
• Ivan Wadgymar – Maizal Restaurant
11:15 am – 11:30 am BREAK
11:30 am – 11:45 am Connect with Metro Vancouver: Welcome & Opening Remarks
11:45 am – 12:30 pm WORKING LUNCH
Metro Vancouver Keynote – Gerd Leonhard, Futurist and Humanist
12:30 pm – 12:55 pm Our Desires Fail Us: Using Art to Make an Impact
Sean Martindale, JP King – Solid Waste Management Services Artists-in-Residence
12:55 pm – 1:30 pm Creating a Culture of Waste Reduction in Communities
• Stephanie Fernandes – Waste Management Planning, Solid Waste Management Services
• Michael Skaljin - Tower & Neighbourhood Revitalization, Social Development & Financial Administration
• Mildred Agsaoay – Black Creek Community Farm
• Orlando Gomez - FoodShare
• Shah Mohamed – CultureLink
1:30 pm – 2:30 pm Connect with Metro Vancouver: Materials & Design Innovation
SPARK Talk Arthur Huang, CEO and Founder of Miniwiz
Moderator: Mikhael Metauro, National Business Development & Sales Strategist, Cascades Recovery
Panel:
Rhys Thom, Senior Design Lead, Design for Change, IDEO
Kate Daly, Executive Director, Center for the Circular Economy, Closed Loop Partners
2:30 pm – 2:40 pm BREAK
2:40 pm – 3:20 pm Business Model Transformation: Zero Waste Stars in Toronto
Moderator: Hillary Predko, Institute for a Resource-Based Economy
Panellists:
• Dayna Stein – Bare Market
• Ayaz Virani – Bunz
• Malaz Sebai – Partners in Project Green
3:20 pm – 3:55 pm Living the Zero Waste Lifestyle - Emily Charles-Donelson
3:55 pm – 4:00 pm Wrap-up and Closing
*schedule subject to change
Who should attend:
This conference is free and open to anyone with a passion for making an impact. All are welcome to attend, including residents, community members, businesses, waste and recycling professionals, change makers and anyone who wants to learn and be inspired.
Why you should attend:
The Province of Ontario's Resource Recovery and Circular Economy Act, 2016 defines a Circular Economy as one in which participants strive to:
• Minimize the use of raw materials;
• Maximize the useful life of materials and other resources through resource recovery; and,
• Minimize waste generated at the end-of-life of products and packaging.
Attending the conference will help you to understand circular economy and zero waste thinking key concepts and how you can make an impact in your work or community.
Additional details:
Admission is free

Refreshments and lunch will be served, please notify the conference coordinator (reducewaste@toronto.ca ) of any

dietary requirements by November 2, 2018.

TTC Tokens are available for reimbursement with Presto Card or TTC Transfer.

Confirmation of requirements or accessibility assistance required

by November 2, 2018.

Please e-mail reducewaste@toronto.ca if you have any questions
For more information about the Zero Waste Conference in Vancouver please visit:
#zwc2018 #TOwasteStrategy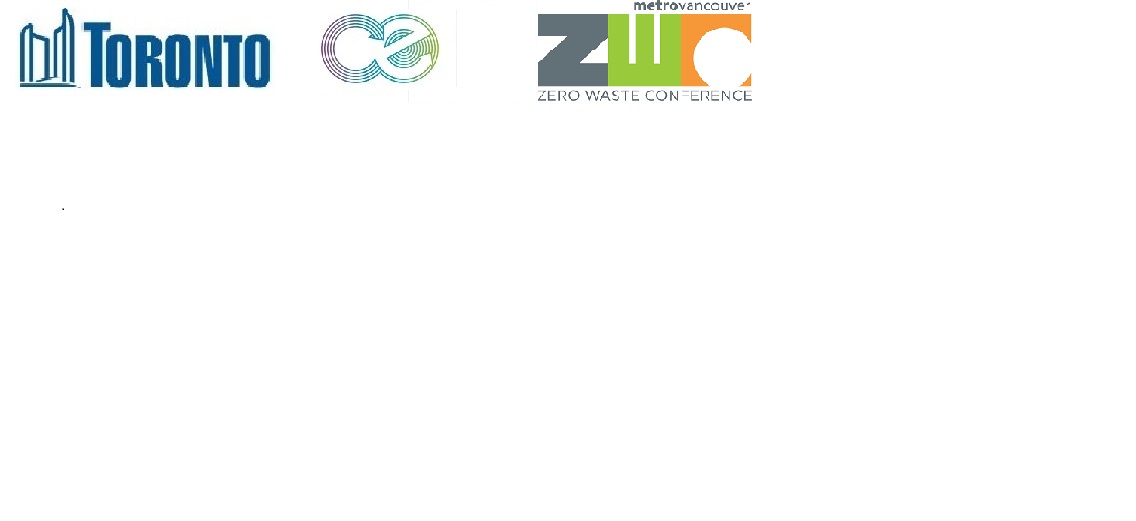 Organizer of Zero Waste Conference Toronto
Following two years of extensive work, the City of Toronto's Long Term Waste Strategy was approved by City Council on July 15, 2016. This comprehensive strategy will guide waste management in Toronto for the next 30-50 years. The new Waste Strategy puts priority on reducing waste and minimizing the amount sent to landfill. It emphasizes the importance of community engagement and encourages prevention of waste, maximizing its value before disposal and supporting the move towards a circular economy. Program implementation planning is underway.