Come celebrate the launch of a community-wide zero waste takeout initiative in North Vancouver. Speakers, silent auction and food provided.
About this event
Launch Party!
Ocean Ambassadors is hosting a party in Deep Cove to celebrate the launch of Canada's first large-scale zero waste takeout system. Restaurants and cafés in Parkgate, Dollarton and Deep Cove are working hard to offer takeout in reusable cups and containers. Please join us to help celebrate these amazing businesses!
Join us to...
Hear a lineup of inspiring speakers discussing the circular economy, plastic pollution, and ocean health
Enjoy food and drinks from participating businesses (served in reusable cups and containers!)
Enjoy live music
Check out our silent auction featuring outdoor experiences, local art and more
Show your support for our inspiring local businesses who are investing their time and energy to help our community move towards zero waste
Details
The event will be hosted outdoors in Deep Cove (on Gallant Ave in front of Honey Doughnuts & Goodies), and we will follow COVID-19 guidelines to ensure the event is safe for everyone.
Bring your friends and family, and come celebrate the launch of this exciting initiative!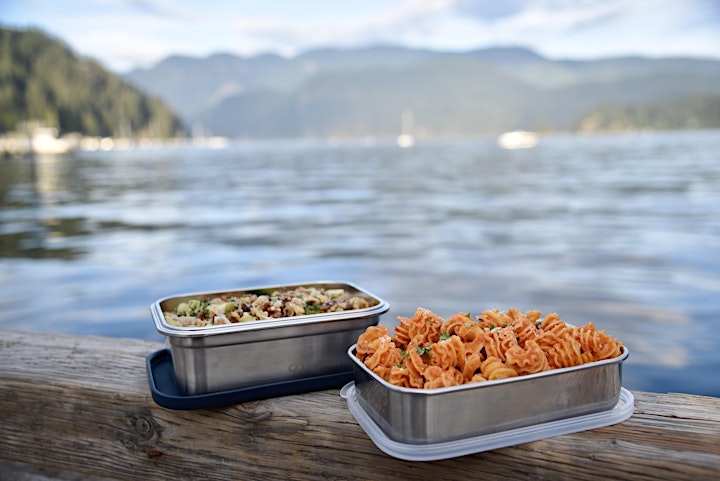 What are we celebrating?
Ocean Ambassadors has partnered with a local company called Reusables.com to bring a zero waste takeout system to the North Shore.
Starting October 18th, businesses in Parkgate, Dollarton and Deep Cove will offer takeout in stainless-steel cups and containers:
A&W (Parkgate)
Bean Around The World (Parkgate)
Bluhouse Market & Café
Cafe Orso
Covert Café & Market
Deepwater Micro Eatery
Dip Co. Delights
DJJ's Wedge
Honey Doughnuts & Goodies
InGrain Pastificio
JJ Bean (Dollarton)
Mt. Seymour
Sapporo Kitchen
The Local Lift Juice Bar
The Raven Pub
United Strangers Coffee
and more!
This initiative will save thousands of single-use cups and containers from entering our recycling stream, landfills, and ocean.