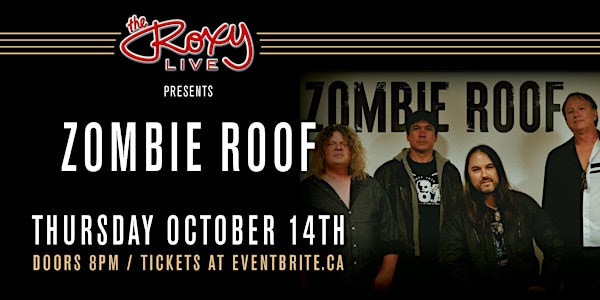 Zombie Roof
The Roxy Presents Zombie Roof , Thursday October 14th 2021 8pm $8 +19 for entry COVID-19 RESTRICTIONS AS MANDATED BY THE BC GOVERNEMENT:
When and where
Location
The Roxy Cabaret 932 Granville Street Vancouver, BC v6z1l2 Canada
About this event
Zombie Roof
As bastard children of the 70's rock and punk era the current sound can be described as dynamic, guitar rock with a driving rhythm section blessed with intense melodic vocals.
Zombie Roof is a hard rocking original band based out of Squamish, BC. Zombie Roof formed originally in 1990 and released an album "Fashionably Green" which was recorded at Mushroom Studio in Vancouver and produced by Grammy winner Rolf Henneman. They supported the release by playing around the Vancouver clubs extensively and received strong critical and fan acclaim.
After a long hiatus Zombie Roof reunited in 2017 with three original members, Trent Atkinson (vocals), Todd Mader (guitar) and Enzo Milia (drums). They added Chris Relling (bass guitar) to the project and recorded the self titled album, Zombie Roof, at Afterlife Studios in Vancouver. The album was produced by Mark Henning and released in 2017. After the release the band added Steve Baer (guitar) and recorded the new album Somewhere in America in January at Hipposonic studios with Mark Henning as producer again. Chris Relling departed and the low end has been picked up by the equally bombastic Eric Jolicoeur.
Zombie Roof's sounds is hard driving, Alternative Rock. The influences can be traced back to Janes Addiction, Mother Love Bone, Sons of Freedom and Rage Against the Machine. As bastard children of the 70's rock and punk era the current sound can be described as dynamic, guitar rock with a driving rhythm section blessed with intense melodic vocals