Location
Edmonton Valley Zoo
13315 Buena Vista Road
Edmonton, AB T5J 2R7
Canada
Refund policy
Refunds up to 7 days before event
Enjoy a night out at the Edmonton Valley Zoo and learn about the animals, while sipping on craft beer, spirits or wine at this 18+ affair.
About this event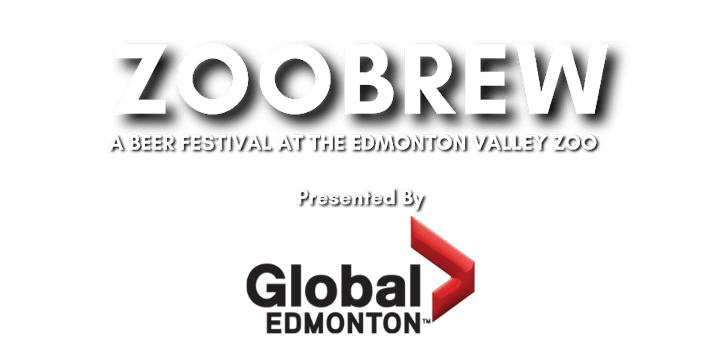 The Ark Project is proud to present the 5th annual Zoobrew, an exclusive 18+ affair at the Edmonton Valley Zoo!
Join us on Friday, August 19th and wander the Zoo with a drink in hand at this twilight event. The Valley Zoo transforms into a peaceful escape on a summer night, perfect for photographers, a night out with friends, or a fun date night with your significant otter!
Attendees will experience a one-of-a-kind evening at the Edmonton Valley Zoo, filled with live music performed by local artists, sample a wide variety of craft beers, wines, and spirits from breweries across the province, and of course, visit the Zoo's famous furry residents.
This wild night of fun will help raise funds for your local Valley Zoo and allow you to experience a unique evening free of kids at the Zoo. Enjoy a walk around the Zoo and learn about the animals while sipping on craft beer, spirits or wine. Sit in the grass and bask in the talent of numerous Edmonton performers.
Cheers to conservation!
Things to know before purchasing tickets:
Tickets will be sold in 30 minute entry time slots. We ask that you arrive within your timeslot to avoid lines, but are more than welcome to come a little earlier/later if needed.
All attendees must be 18+ to attend Zoobrew, this includes all designated drivers. Anyone without a valid form of photo ID or anyone under the age of 18 will be denied entry without a refund. All attendees will be required to show photo ID. Babies and infants are NOT allowed.
The event is rain or shine, so be sure to dress for the weather!
Representatives from each brewery reserve the right to deny service.
The safety of our animals, guests and staff is of the utmost importance. Anyone who compromises the safety of any humans or animals will be removed from the event without a refund.
SERVING OF ALL ALCOHOL WILL END AT 10:00PM EXACTLY AS PER AGLC REGULATIONS.
Breweries
Alley Kat Brewing Company
Asymmetrical Brewing & Roasting
Blind Enthusiasm Brewing Company
Blindman Brewing
Campio Brewing Company
Dog Island Brewing
Eighty-Eight Brewing Co.
Endeavour Brewing Company
Hell's Basement Brewery Inc.
Long Roof Brewing
Odd Company Brewing
Omen Brewing
Phillips Brewing & Malting Co.
Polar Park Brewing Company
Sea Change Brewing Co.
SYC Brewing Co.
The Growlery Beer Co.
Tool Shed Brewing Company
Town Square Brewing Co.
Yukon Brewing Company
Distilleries
Back40 Distillery
District Distillery
Lone Pine Distillery
Rig Hand Craft Distillery
The Fort Distillery
T-Rex Distillery
Wineries
Birds & Bees Organic Winery and Distillery
Spirit Hills Winery
Cideries
True North Cider
Food Vendors
Sandwich & Sons
40 Acres
Moo At The Zoo
Wetland Treats
**Food vendors are based on the exclusive catering contract that the Edmonton Valley Zoo has with Prairie Catering, an Edmonton-based catering and event planning company
Zoobrew After Party hosted by The Pint on Whyte!
The Ark Project invites you to join us for the official Zoobrew after-party hosted by the Pint! All Zoobrew attendees are valid to receive one FREE high ball (10 oz.) and priority entrance to the Pint before 11:30 pm when they show their official after-party ticket handed out at the start of the event.
FREE busses will be leaving from the Edmonton Valley Zoo to the Pint at the front gates at the following times:
10:00 pm (Last call)
10:30 pm
11:00 pm
We hope to see you there!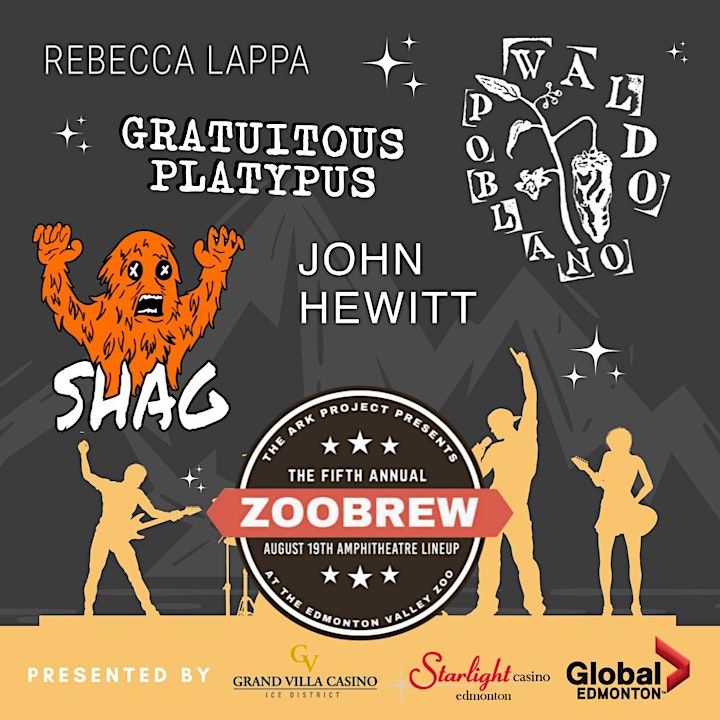 Frequently Asked Questions (FAQ)
Q. What time is last call for alcohol?
A. Last call for ALL alcohol is 10:00 pm as per AGLC guidelines and regulations.
Q. What can I expect to find at Zoobrew?
A. You can expect to enjoy some amazing beers, wines, spirits and cider, as well as incredible encounters with the Zoo's animals, and great live music! There's never a dull moment.
Q. How do sample tickets work?
A. All beer and food can be sampled by purchasing sample tickets upon entering Zoobrew. Sample tickets are $1 each and sold in packages of 20. Each sample ranges from 2-4 tokens, but food and more expensive spirits can be more. A sample of beer is legally 4oz, which is 1/3 of a bottle of beer.
Q. What time do doors close?
A. Last ticket entry is 9:00 pm. However, once inside guests are welcome to stay inside the Zoo until 11:00 pm.
Q. How much are food/drink tickets?
A. Food/Drink tickets can be purchased in packages of 20 tickets for $20. Food/Drink tickets can be used at any of the food or beverage vendors located throughout the Zoo.
Q. How many tickets do vendors charge per drink?
A. Vendors set their own prices per sample, however, most samples average about 2-3 tickets each.
Q. Is there food on-site?
A. Yes! Our on-site food vendors for the event are Sandwich & Sons (Located in the Entry Plaza), 40 Acres (Located by the Urban Farm), Moo at the Zoo (Located by the Urban Farm), Wetland Treats (Located by the Frog Trailer), and the Prairie Catering Food Tent (Located in the large white event tent by the Amphitheatre)
Q. Do I have to buy tickets in advance?
A. Yes, you are required to purchase tickets in advance!
Q. Can I leave my vehicle overnight?
A. Yes! Parking at the Edmonton Valley Zoo is free of charge, there is a large parking lot immediately outside of the zoo entranceway. You can (and are encouraged to) leave your cars in the Edmonton Valley Zoo parking lot overnight and come pick them up Saturday morning.
Q. Is there public transit?
A. Public transit to GET to the event is route 994 leaving from West Edmonton Mall at 4:45, 5:15, and 5:45. There is one bus returning to West Edmonton Mall at 6:00 pm but there are no other busses after that.
Q. Can I smoke or vape inside of the Zoo?
A. You CANNOT smoke or vape anywhere inside of the Zoo. If you have to smoke or vape, make sure you have your lanyard on for re-entry and you will be able to stand outside of the gates.
Q. What if I'm not into beer? Is there still something for me?
A. Although the event is primarily comprised of beer, we understand that not everyone appreciates this beverage quite the way we do. In light of that, we do have wine, spirits, and ciders to sample – plus live music, food vendors, and of course, the Zoo's famous furry residents to see!