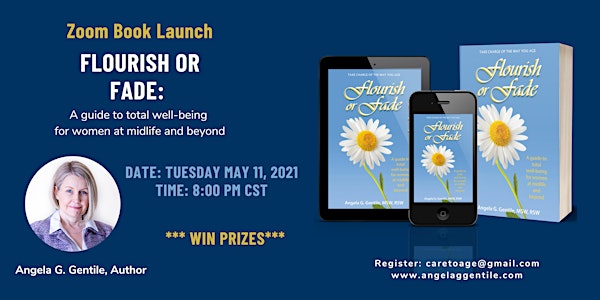 Zoom Book Launch & Giveaway — "Flourish or Fade" by Angela G. Gentile
Angela G. Gentile, a clinical social worker, is presenting her newest book during National Women's Health Week. Many prizes to be won!
About this event
Angela is very excited to present her newest book, Flourish or Fade: A guide to total well-being for women at midlife and beyond. It is ten years in the making and is based on Angela's education, life, and professional experience. This book will have you taking charge of the way you age.
The Flower of Wellness self-assessment method will help you explore the 10 dimensions of wellness and your satisfaction in all these aspects. Tips, self-reflection, things to try, and personal anecdotes will help you improve your overall well-being. Improving balance in life will help you bloom and flourish.
The book is available for purchase on Amazon in paperback and ebook (Kindle) format.
Many authors and professionals have generously donated their services, books, and products which will be given away in a draw. For more information on the prizes being offered and contest details, please go to Angela's website: www.AngelaGGentile.com or email her at caretoage@gmail.com.
Register to attend the Zoom Book Launch live or watch the recording at a later date.