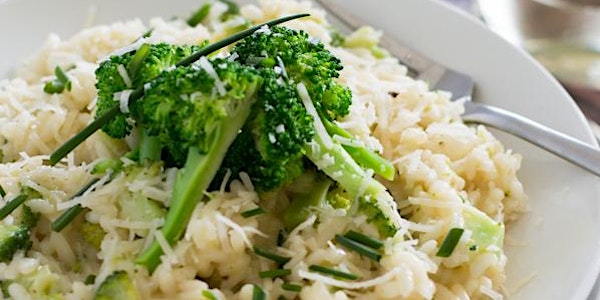 Zoom Family Cook-a-Long with Chef Andrea Potter
Lazy Risotto with Roots, Shoots and Leaves Salad
About this event
Ingredients for Risotto:
2 Tbsp. neutral oil (like avocado oil, ghee or high-oleic sunflower oil)
1 medium onion, diced small
3 cloves garlic, minced or grated
1 cup short-grain rice (brown rice or risotto rice are both fine, or do ½ and ½ ) ½ cup dried mushrooms (any kind will do, I use chanterelles or shiitake) 2 handfuls mushrooms (any kind), chopped
3 cups water or stock (use ¼ cup less than this if you soaked the rice)
1 big crown broccoli, cut into florets, stalks peeled and chopped
Optional but tasty: 3 Tbsp. preserved lemon, chopped small (available at Mediterranean grocers) Substitute the zest of half a lemon.
Optional: a bit of truffle oil to finish
Salt and pepper to taste
1 handful grated parmesan, white cheddar or use ¼ cup nutritional yeast
Ingredients for Salad and Dressing:
The roots:
sliced very thinly (or with a peeler)
• red beets (the yellow ones oxidize!)
• carrots (the rainbow ones are nice!)
• radish or daikon
The shoots:
I love buckwheat shoots, pea shoots, sunflower sprouts the best. Also good are: garlic sprouts, radish sprouts, broccoli sprouts.
The Leaves:
Lettuce- arugula, butter, red oak, lolla rossa, mixed-it's your choice!
For the berry dressing:
½ cup fresh or frozen berries
1/3 cup red wine vinegar (or balsamic, or white wine vinegar, or apple cider vinegar!)
½ cup olive oil
½ cup flax oil
2 pinches of sea salt