Zuppa Theatre Co. Presents: Slowly I Turn: A Parlour Vaudeville in One Act

Multiple Dates
Event Details
ALL SHOWS ARE NOW SOLD OUT. PLEASE CALL 489-9872 TO BE ADDED TO A WAITING LIST FOR ANY PERFORMANCE.

Slowly I Turn: A Parlour Vaudeville in One Act
Starring Ben Stone, John Stone

 
Slowly I Turn is the newest creation by Halifax's "most innovative theatre troupe". Created by Zuppa founder and principal actor Ben Stone, the show is a father and son fulfilling a long-time dream of performing together...by putting on a play in their living room. Starring Ben Stone and his real-life father John (a much loved Halifax school teacher), Slowly I Turn is a love letter to family and theatre. Per

f

ormed in an actual living room of a peninsular Halifax home, with live music and a fire in the hearth, the show is inspired by American Vaudeville, Hamlet, and the Muppet Show.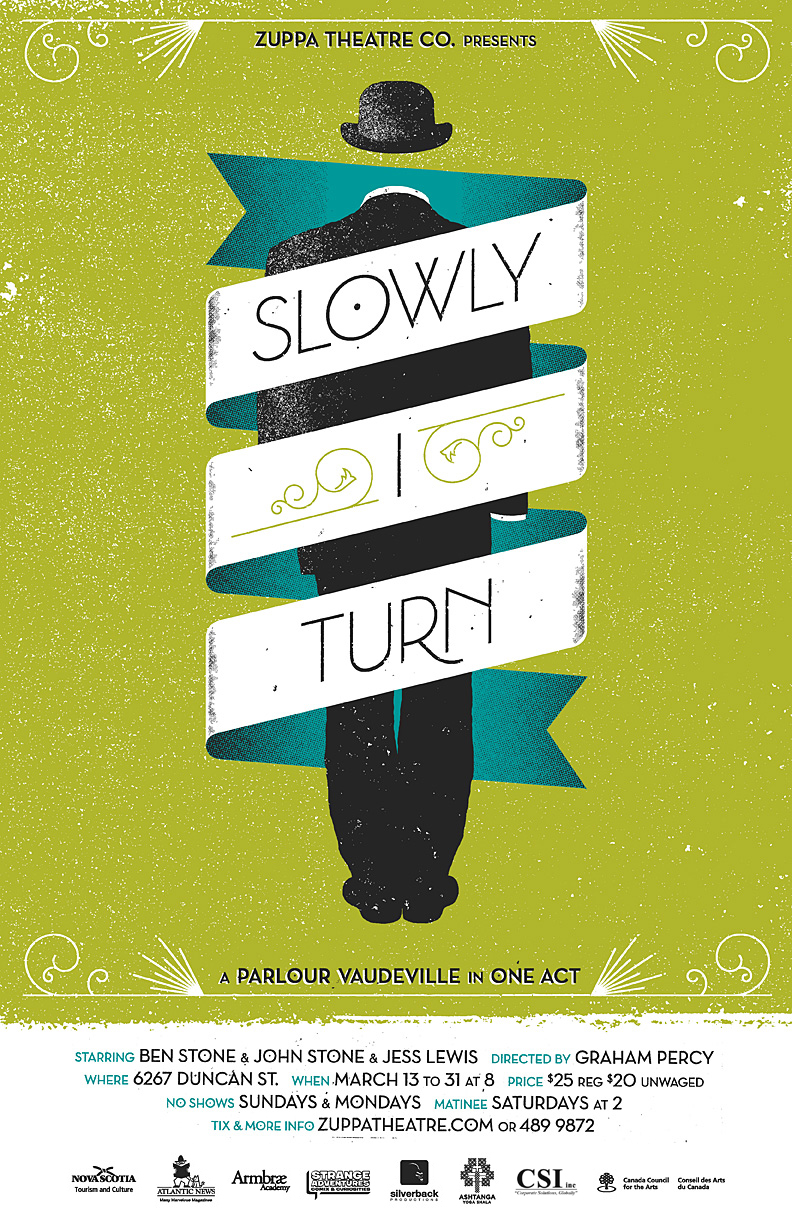 Organizer
Zuppa is an ensemble theatre company based in Halifax, Nova Scotia. We are driven by a core group of artists developing original performances in collaboration with like-minded artists from related disciplines. Zuppa's unique productions favour the intuitive over the formulaic and thrive on the play between the imagined and the real. At the heart of each show is the restless spirit of the actor.
With a zest for adventure, Zuppa has performed across Canada as well as in Boston and New York State and Cardiff, Wales. The company has been the subject of audience and critical acclaim, scholarly articles, and the recipient of several awards. Zuppa Theatre Co. is an affiliate member of the Professional Association of Canadian Theatres and Theatre Nova Scotia and is supported by Nova Scotia Tourism, Culture and Heritage and The Canada Council for the Arts.
WWW.ZUPPATHEATRE.COM