Zuppa Theatre Co.'s Sport & Social

Saturday, April 28, 2012 from 8:00 PM to 11:30 PM (ADT)
Event Details
Come play with us!


Zuppa Theatre Co.'s annual Sport & Social is like the country fair of old. We have classic games like Chicken Toss and Duck-of-War, and modern international games like Foosball.

Support the arts and be glorious!

Tickets are $10 and that gets you 5 game tickets too!
Your company, class, pack, colony, cloud, flutter, band, pod, mob or brood can also buy 10 tickets for just $60.
 Drink and be merry.
For kids 19+
Game on.
Duck-Of-War: two players blow through a straw, moving rubber ducks down of a long water tub and back to win. 
Chicken Toss: two players throw rubber chickens and try to get them to land in milk crates 30 feet away.
Foosball: based on the Brazilian games "totó", "pebolim" and "fla-flu".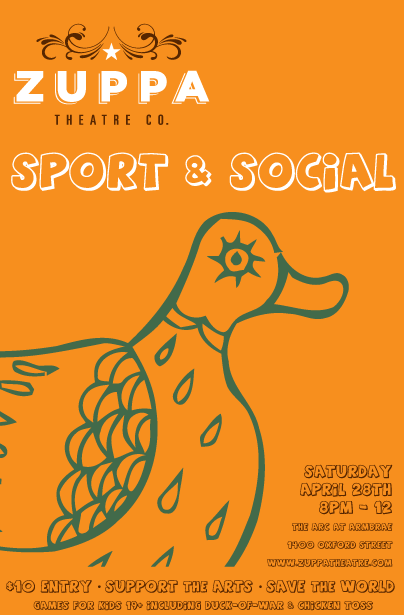 When & Where

The AARC at Armbrae Academy
1400 Oxford St
NS B3H 3Y8
Canada

Saturday, April 28, 2012 from 8:00 PM to 11:30 PM (ADT)
Add to my calendar
Organizer
Zuppa is an ensemble theatre company based in Halifax, Nova Scotia. We are driven by a core group of artists developing original performances in collaboration with like-minded artists from related disciplines. Zuppa's unique productions favour the intuitive over the formulaic and thrive on the play between the imagined and the real. At the heart of each show is the restless spirit of the actor.
With a zest for adventure, Zuppa has performed across Canada as well as in Boston and New York State and Cardiff, Wales. The company has been the subject of audience and critical acclaim, scholarly articles, and the recipient of several awards. Zuppa Theatre Co. is an affiliate member of the Professional Association of Canadian Theatres and Theatre Nova Scotia and is supported by Nova Scotia Tourism, Culture and Heritage and The Canada Council for the Arts.
WWW.ZUPPATHEATRE.COM