Manage your conference with ease
Eventbrite's best-in-class conference management software powers your events with data insights, built-in intelligence and next-generation marketing tools.
See how Eventbrite's conference planning software powers more than 2 million live events each year.
Easily manage every step of your workflow with an all-in-one conference management software platform. Provide a seamless experience for your attendees—from mobile ticketing via the conference registration app, to post-event ROI analytics—and everything in between.
1
Excel with the industry's leading conference management software
Easily and efficiently manage the complexities of your conference, from conception to registration to execution, with technologically advanced conference management software. Spend less time sweating the details and more time creating meaningful live experiences.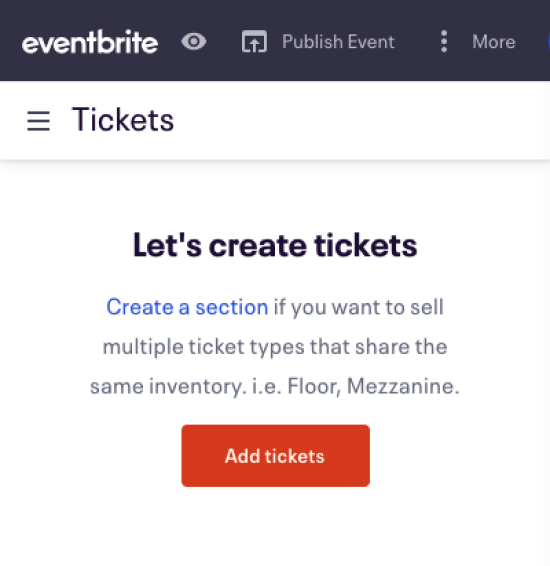 2
Sell conference tickets online with data-driven decision-making
Grow your events with confidence. Engage a wider audience and with actionable insights into how your events are performing, where your attendees find you and more. Focus your time and budget on what's working with intuitive digital conference planning tools.
3
Build a loyal community of fans
Reach and engage a wider audience, drive demand, sell conference tickets online and build long-lasting relationships with your attendees using our end-to-end conference planning software.
Innovative end-to-end event management software for all types of conferences
Join millions of event creators powering unforgettable live experiences across the globe with Eventbrite's conference planning solution.
Eventbrite's conference management technology provides the tools and resources to create a seamless experience for your attendees at every stage of your event.
Grow your events business with increased exposure, clicks and conversions

Rank at the top of Google search results, thanks to Eventbrite's industry-leading SEO digital toolkit and strategic partnership with Google Events.

Manage conference registration and ticketing like a pro

A customisable conference management website makes it easier than ever for your visitors to purchase tickets with a simplified secure checkout, available on any smart device.
Provide a more personalised experience for attendees

Drive deeper engagement with your attendees at every stage of your conference management workflow—from mobile ticketing via the conference registration app to post-event communications.

Measure your conference success with advanced analytics

Free conference management software provides a real-time view into your registration and attendance data, as well as actionable intelligence on your customers' path to purchase. Measuring your success has never been easier.
Choose the package that's right for you
Get started free and avoid ticketing fees by passing them to attendees.
Essentials
The basics you need to start selling tickets in minutes.
Professional
The full set of tools you need to create, manage and grow your events.
Premium
Tailored partnerships for event pros with large or complex events.
Frequently asked questions
What is conference management software?
Conference management software empowers creators of events of all shapes and sizes by providing them with the tools and resources they need to seamlessly plan, promote and produce live experiences around the world. End-to-end conference planning software supports the critical event components of your largest events, including registration management, onsite check-in, speaker and sponsor/exhibitor management, attendance tracking, social event management and venue logistics.
How can I increase my conference registrations?
Boost your online registration numbers with more eyeballs, clicks and conversions. Appear at the top of Google search results, thanks to Eventbrite's industry-leading SEO digital tools and strategic partnership with Google Events. Eventbrite's free conference management software provides easy access to your ticket sales data and actionable intelligence on your customers' online journey. Learn how you can sell more tickets with reports illuminating what digital marketing efforts are delivering results.
What digital strategies can I use to sell conference tickets online?
Eventbrite's built-in digital marketing tools, seamless software integrations and online ticket management make it easier than ever to sell more tickets online. Use Eventbrite Boost to send targeted email campaigns, launch social ads and more. Up your game with elegantly designed event pages and a highly efficient checkout flow optimised to convert visitors into attendees.
What are event management platforms and why should I use them?
Event management software platforms provide a critical support function for creators across the spectrum by simplifying every stage in the event planning process. The end-to-end solution provides the tools for everything from venue logistics and event marketing campaigns to post-event reporting and ROI analysis.
The industry's best conference management software provides the tools you need to make event magic.