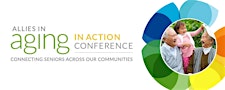 Allies in Aging
Allies in Aging collaborates to connect seniors across our communities through leadership, outreach, transportation, training and advocacy. Projects are designed to connect seniors with people and services to reduce isolation due to disability, low income, language or cultural barriers. Four lead agencies are working with more than thirty partners to bridge geography and organizational diversity through strategic alignment.
Our goal is to increase the number of seniors who...
-have support and help when they need it by having someone they can count on to listen to them when they need to talk, to give them advice about a crisis and to help them when needed.
-participate regularly in activities;
-feel connected to family, friends and acquaintances, and
-feel valued by family, friends and acquaintances.  
The conference provides an opportunity to come together to share highlights and learning from this project and to explore ways of staying connected as we move forward.
LEAD AGENCIES: Burnaby Community Services (Seniors on the Move and Evaluation), Burnaby Neighbourhood House (Welcoming Seniors' Spaces), Family Services of the North Shore (Volunteer Impact and Backbone), South Vancouver Neighbourhood House (Seniors Hub).
PARTNERS & STAKEHOLDERS: BEST (Better Environmentally Sound Transportation), bc211, Burnaby Seniors Outreach Services Society, Cedar Cottage Neighbourhood House, Collingwood Neighbourhood House, 411 Seniors Centre Society, Fraser Health, Frog Hollow Neighbourhood House, ICBC, Immigrant Services Society, Insight Driving Solutions, Kiwassa Neighbourhood House, Little Mountain Neighbourhood House, MODO Car Co-op, MOSAIC, Mount Pleasant Neighbourhood House, MVT HandyDART, North Shore Multicultural Society, North Shore Neighbourhood House, Nurse Next Door, Seniors Services Society, SFU Gerontology, SHARE Family and Community Services, Silver Harbour Seniors Centre, SPARC BC, The Bus Co-op, TransLink, United Way of the Lower Mainland, Vancouver Coastal Health.
This project is funded in part by the Government of Canada's New Horizons for Seniors Program.
Sorry, there are no upcoming events