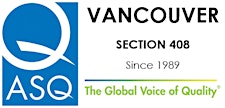 ASQ Vancouver (Section 408)
ASQ Vancouver advances individual and organizational performance excellence in BC by providing opportunities for learning, quality improvement and knowledge exchange. We hold monthly Quality & Business programs where our members and guests have the opportunity to connect and learn from each other. 
ASQ: The Global Voice of Quality
ASQ is a global community of people passionate about quality who use their tools, ideas and expertise to make the world work better.
With millions of individual and organizational members of the community in 150 countries, ASQ has the reputation and reach to bring together the diverse quality champions who are transforming the world's corporations, organizations and communities to meet tomorrow's critical challenges. ASQ is headquartered in Milwaukee, Wis., with national service centers in China, India and Mexico. Learn more about ASQ's members, mission, technologies and training at www.asq.org.
Vancouver Events RSS Feed: http://www.eventbrite.ca/rss/organizer_list_events/2954353719