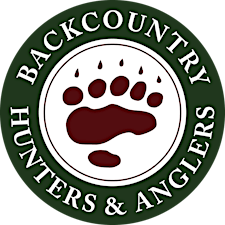 BC BHA
The British Columbia Chapter of Backcountry Hunters & Anglers (BCBHA) was established in February of 2014 to become the first official international chapter of Backcountry Hunters Anglers (BHA). 
Although we have abundant opportunity to go afield every day of the year, it is not only this quantity of opportunity we need to maintain. We need to maintain quality, wild opportunity. Opportunity with challenge, solitude, effort, peace and quiet, and wildness where we can get away from industrial activities and industrial-strength recreation of our fast-paced society. Where wilderness is still the pristine legacy of nature. Where we can chase after childhood dreams of wild bulls, bucks and rams in mountains still wild.
BCBHA looks forward to sharing BHA's strong conservation message on our wildlands to ensure quality habitat, wildlife populations and the subsequent quality outdoor opportunities that result from good decisions for wildlife and habitat management in British Columbia.
"Empathy is the starting point for creating a community and taking action. It's the impetus for creating change" 
- Max Carver
Sorry, there are no upcoming events