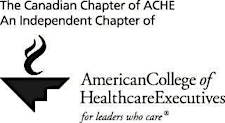 Canadian Chapter of ACHE
The American College of Healthcare Executives (ACHE) is the professional society for over 48,000 healthcare leaders committed to improving health and advancing healthcare management excellence.
ACHE offers:
a wide array of in person and online learning opportunities, including the ACHE Congress on Healthcare Leadership attended by over 4,000 members annually.
an established network of 78 chapters offering networking, education and career development at the local level
research and professional publications including Healthcare Executive Magazine and the Journal of Healthcare Management
the prestigious, gold standard FACHE® credential, signaling board certification in healthcare management.
The Canadian Chapter of ACHE was founded in 2007 and received full Chapter Status in 2011. We are a national Chapter and represent healthcare leaders from all across Canada.
To join ACHE visit www.ache.org. For more information on the Canadian Chapter go to http://canada.ache.org.
Sorry, there are no upcoming events