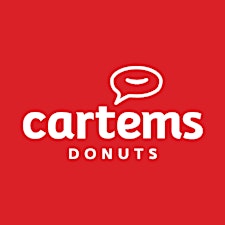 Cartems Donuts
Hi, we're Cartems! Our name stands for three key things: smiles, conversations, and donuts. If we can make people smile and talk about our donuts, then that's a win, plain and simple.
We offer donuts for everyone. We've got baked, vegan, and gluten-friendly donuts and we even incorporate coconut oil in the frying of our donuts. We don't use any stabilizers or premixes, ever. And our donuts are never frozen. Every one of our doughs, glazes and fillings are natural, made from scratch, free of trans-fat, and made by people each and every day.
Our ingredients are sourced from as close to home as possible, and organic wherever we can. Local ingredients – ethically sourced and sustainable – mean a higher quality donut we can all feel better about eating! 
Sorry, there are no upcoming events