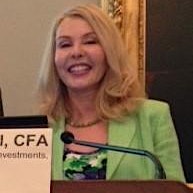 Catherine Ann Marshall
Catherine co-founded R4 to bring specialized global investment management expertise to real estate and real asset ESG consulting. R4 is a natural evolution in her 12-year consulting history as Principal Consultant at RealAlts, a real assets investment consulting firm whose work includes ESG and TCFD reporting, new fund development, and investment strategy in Real Estate, Infrastructure, Agriculture, and Private Debt. She has an equally extensive background in hands-on ESG work as a builder, industry association leader, and sustainability expert.
Prior to founding RealAlts, Catherine had extensive investment management experience as Director of Research and Strategy, Real Estate at the Canada Pension Plan Investment Board (CPPIB); Senior Vice President and Global Strategist at LaSalle Investment Management; Associate Portfolio Manager at Genus Capital Management; and Assistant Portfolio Manager, Real Estate, at the British Columbia Investment Management Corporation (BCI). She has also worked at Aon Investment Consulting as Associate Partner, Global Real Estate.
Catherine was one of the first investment professionals in the world to attain the Sustainability and Climate Risk (SCR) certification in 2020. This demanding program in TCFD reporting, Green Finance and other emerging topics is offered by the Global Association of Risk Professionals. She is the ESG columnist on the Expert Panel of the Canadian Investment Review, and the former Executive Member and Treasurer of the Canada Green Building Council Toronto Chapter and has been a member of sustainability advisory groups.
In addition to the SCR, she holds the CFA designation, has an undergraduate degree in Economics and Urban Studies from Queen's University, and a Master's in Economics and Finance from Simon Fraser University. www.r4advisory.com catherine@r4advisory.com
Sorry, there are no upcoming events