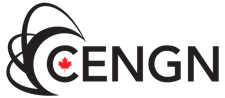 Centre of Excellence in Next Generation Networks
CENGN is the Centre of Excellence in Next Generation Networks. Our vision is to advance global technology for the prosperity of all Canadians. Our mission is to drive technology innovation and industry growth through our test bed, technical expertise, talent development, and partner ecosystem. 
Through our leading-edge technology infrastructure and expertise, and the creation of a globally recognized ecosystem of partners, CENGN helps Canadian small and medium enterprises overcome commercialization barriers and grow. CENGN collaborates with top ICT multinationals, the public sector, financial institutions, and academic partners, to solidify Canada's leadership in next generation networks for the benefit of all Canadians.
CENGN's ecosystem includes members Bell Canada, Cisco, EXFO, Huawei, Invest Ottawa, Juniper Networks, Mitel, Nokia, Ribbon Communications, Rogers, TELUS, and Wind River.  The company also partners with the federal government through the Networks of Centres of Excellence (NCE) and the Ontario government through the Ontario Centres of Excellence (OCE).
Sorry, there are no upcoming events