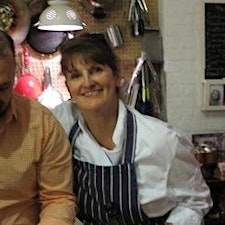 Chantal Véchambre, Chef & Caterer
Chantal Véchambre, originally from Paris, is a chef certified in both French cuisine and Pastry-chocolate. In 2005 she moved to New Brunswick where she began her own business as caterer. Her independent research in culinary history led her to the Fortress of Louisbourg (Nova Scotia), a National Historic Site of Canada, where she developed new recipes for the site's restaurant, and culinary workshops to the public, inspired by the 18th century recipes.
She wrote with Anne Marie Lane Jonah, the award winning book French Taste in Atlantic Canada, 1604-1758, A gastronomic history (CBU Press), featuring ingredients and recipes of the colonial period. Now established in Toronto, she pursues food writing and cooking ventures about french cuisine : supper club, in-home chef service, private and corporate catering, french pastries delivery… 
-------- 
Chantal Véchambre est arrivée de Paris en 2005 avec une double qualification en cuisine et en pâtisserie-chocolaterie. Elle a d'abord choisi le Nouveau-Brunswick où elle a rapidement démarré sa propre activité de traiteur. Ses recherches personnelles en histoire de la cuisine l'ont amenée à la Forteresse de Louisbourg (Nouvelle Ecosse), un site national historique du Canada. Renouvellement des recettes des restaurants du site et aussi ateliers culinaires inspirés des recettes du 18ème siècle.
Elle est, avec Anne Marie Lane Jonah, l'auteur du livre primé Le goût français au Canada Atlantique, 1604-1758, Une histoire gastronomique (CBU Press), qui met en avant les ingrédients et les recettes du temps de la colonie. Maintenant installée à Toronto, elle y poursuit ses travaux d'écriture ainsi que ses activités autour de la cuisine française : diners dégustations, service de chef à domicile, service traiteur, livraison de desserts… 
Sorry, there are no upcoming events