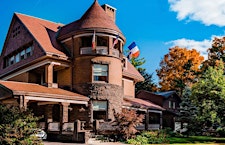 Château la Motte Guest House
Welcome to our elegant 1895 Historic Mansion! Our home boasts beautiful Queen Anne Revival style architecture and was constructed with ruby volcanic stone. The property is beautifully preserved with old-world charm and new world amenities. It's a journey back in time! Our unique B&B is located in one of the most architectural outstanding areas in Woodstock and it's only a 10-minute walk to downtown.
It's the perfect setting for a romantic getaway, business trips, golf getaways, antique shopping, wedding accommodations, and more. Our charming guest rooms are well-kept and beautifully preserved. They are unique and equipped with private en-suite bathrooms; some have relaxing jet bathtubs and private balconies.
We also rent our venue for business meetings, informal seminars, small corporate events, workshops, or working retreats. Our spaces are also great for small and intimate celebrations. It's perfect for parties, wedding receptions, showers, reunions, book launches, afternoon teas, and more. The building and garden also provide an ideal setting for a variety of photoshoots.
* We host monthly relaxing Afternoon Teas, unique Beer/Wine Tastings, exciting Crafts/Hobby Workshops, Business Social & Network Events, as well as delightful Cooking Classes. If there is a skill that you'd like to learn, or have interesting workshop ideas, please let us know by sending us an e-mail to contact@chateaulamotte.ca.
-------------------------------------------------------------------------------------------------------------------------------------------------------------------------------------
We opened our own Tea Business in June 2020! It's called Angel of Tea!
Our goal is to supply you with the best tea and to help you understand all the amazing health benefits drinking tea offers. That means we source only the finest organic tea from the most outstanding tea plantations. Our teas are loose-leaf and of high quality. It's imported directly from the countries that grow the tea. Tea is a supremely helpful plant that can soothe, energize, and nurture your soul!
Read more: www.angeloftea.com.
We would love to meet you!
Warm regards,
Alida Louw
Sorry, there are no upcoming events