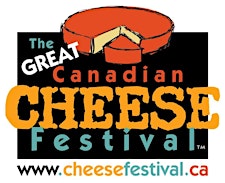 Cheese Lover Productions Inc.
The Great Canadian Cheese Festival, since its launch in 2011, has become the biggest artisan cheese show in North America. Founded in 2014, Canadian Cheese Awards/Le Concours des fromages fins canadiens is the biggest cheese competition in Canada.
Georgs Kolesnikovs, founder of both the Cheese Festival and Cheese Awards, has extensive experience in event management and promotion—and a lifelong passion for cheese.
Georgs first fell in love with artisan cheese when he tasted Oka as a teenager, when the Trappists still made it. He maintains the popular blog CheeseLover.ca.
A lifelong journalist, with experience in newspapers, magazines and radio, Georgs publishes two custom magazines: Circumnavigator and Glory Road.

Cheese Lover Productions Inc.
59 Laguna Road
Campbellford, Ontario  K0L 1L0
Telephone 705.632.1503.
Sorry, there are no upcoming events