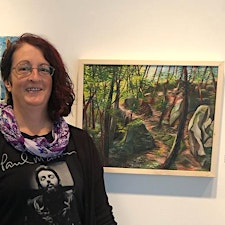 Cheryl-Ann Hills, Artist
I am a visual artist living in Hamilton Ontario. My art career began very young creating comic strips from Snoopy and the Peanuts gang. Through the years my skills, training and experience increased and includes painting in oil, acrylic, gauche, watercolor; using pastels, charcoal, pencil, ink; mixed media, paper mache, bead work and more. Working as a graphic designer for more than 20 yrs I also have experience and skills in creating digital artwork for various applications.
My private studio has been open and available to accept students since the summer of 2018 and the experience has been very rewarding. I enjoy working closely with my students to help them develop their skills and confidence. During the covid shut down I continue to offer workshops online to my students and the response has been excellent. Students are enjoying the workshops and signing up regularily. I will continue to provide online workshops even after we all come through the other side of this pandemic situation.
You can view full descriptions of the classes and workshops here on this page, and you can view examples of my work on my Facebook page and website. You can also sign up for workshops through my website which accepts Google and Apple pay as well as credit cards.
Please contact me directly if you wish to book a private or semi-private Zoom session. My schedule is reasonably flexible enough to accommodate special requests.
I am also available by email if you have any questions about the workshops or the techniques taught. I am here to help you on your journey to discovering your creative potential.
Remember: YOU are an original work of art!!
Stay AMazing!!
"Art washes away the dust of everyday life" ~ Picasso