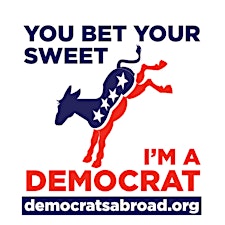 Democrats Abroad Vancouver
Democrats Abroad is the official overseas arm of the Democratic Party, with members in over 190 countries worldwide. We are a 'state' party, hold our own Primary in Federal election years, and send pledged delegates to the Democratic National Convention. In addition to helping overseas Americans register to vote, we work to elect Democrats and support the principles of the Democratic Party. We also advocate in Congress on issues of importance to Americans living overseas. The Vancouver chapter encompasses mainland British Columbia, and is part of Democrats Abroad Canada, which is the largest country committee.
Watch this space for upcoming announcements of meetings and events - we have events planned throughout the year, and encourage anyone interested in participating to get in touch.
If you have questions or would like to help with Democrats Abroad in Vancouver, please contact us.
Sorry, there are no upcoming events