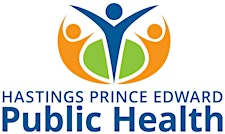 Hastings Prince Edward Public Health
Hastings Prince Edward Public Health (HPEPH) serves the County of Prince Edward, Hastings County, Quinte West, and Belleville, Ontario from offices in Trenton, Picton, Bancroft and Belleville. HPEPH operates one of 34 public health units in Ontario.
Our Mission is to enable the people in Hastings and Prince Edward Counties to achieve and maintain optimal health through health protection and promotion, as well as disease and injury prevention.
This will be accomplished by:
Protecting the community through the enforcement of legislation relating to health;
Encouraging people to adopt healthy lifestyles and practices throughout their lifespans;
Developing strategies and working with people to promote health and to prevent disease and injury; and
Working for a healthy environment that allows people to live healthy lives.
Sorry, there are no upcoming events