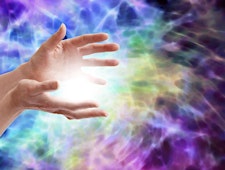 Health Energy Works
Karina is a healer, coach, and facilitator with a deep intuitive sense. She is a Holistic healer who uses a creative and holistic approach to healing, by integrating mind, body and soul to help you on your journey. She believes that each individual is the expert in their life story and that we all have within us the power to heal and create positive changes in our lives.
Karina's workshops & sessions are deeply relaxing and rejuvenating and she brings a wealth of knowledge and expertise for a truly powerful holistic healing experience.
As a Reiki Master, with advanced training in Karuna Reiki, Karina uses the life force energy to heal by balancing the subtle energy within your body. Karina addresses your physical, emotional, mental and spiritual imbalances. She possess healing hands which are a vessel that supplies healing energies to where they are most needed.
Karina employs a pendulum, lemurian light Healing and biopulsar readings when balancing and healing chakras.
Karina's approach to Feng Shui and Space Clearing creates a place of free, expansive energy that can touch your highest potential. Karina has achieved results for clients all over the world.
Karina studied at the University of Methaphysics in Sedona, and is currently working on a book capturing her unique focus of holistic healing.
Sorry, there are no upcoming events