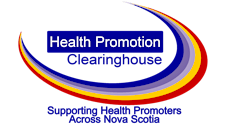 Health Promotion Clearinghouse
The Health Promotion Clearinghouse (HPC) is a valued resource system supporting Nova Scotia's health promoters to foster healthy people and healthy communities.
HPC is a non-profit provincial resource system grounded in the principles of health promotion and population health. Serving more than 50,000 different individuals annually, its mandate is to enhance capacity for health promotion and disease prevention in Nova Scotia by providing tools, opportunities for networking, personalized support, and timely access to resources and expertise.
Sorry, there are no upcoming events