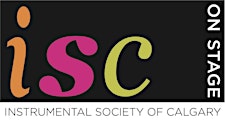 Instrumental Society of Calgary
ISC - Instrumental to Calgary culture!
Do you hear that? It's the sound of the ISC creating outstanding and affordable chamber music for Calgarians!
The ISC continuously strives to present outstanding artists, engage audiences and create opportunities to enrich the Calgary Arts Scene.
The Instrumental Society of Calgary (ISC) is a volunteer, non-profit organization whose purpose is to continue the society's tradition of providing an outstanding, affordable chamber music concert series to Calgary audiences. The ISC supports Calgary based chamber musicians by offering world-class performers a stage on which to share their favorite music in an intimate "chamber" environment.
With the participation of committed music lovers in Calgary, we strive to develop a superb chamber concert series.