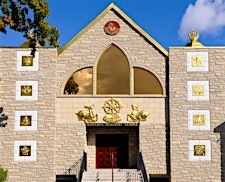 Kadampa Meditation Centre Canada
Kadampa Meditation Centre Canada (KMCC) is located in downtown Toronto. We are part of The New Kadampa Tradition, an association of over 1200 Buddhist Centres around the world that derive their inspiration from the example of the ancient Kadampa Masters and their teachings, as presented to the modern world by Venerable Geshe Kelsang Gyatso Rinpoche.
Geshe-la, as he is affectionately called by his students, is primarily responsible for the worldwide revival of Kadampa Buddhism in our time. From the age of eight he studied extensively in the great monastic universities of Tibet and earned the title 'Geshe', which literally means 'spiritual friend'. Under the guidance of his Spiritual Guide, Kyabje Trijang Rinpoche, he then spent the next eighteen years in meditation retreats in the Himalayas.
Venerable Geshe-la is a humble Buddhist monk dedicated to helping people throughout the world find true happiness through studying and practicing Dharma, the teachings of Buddha.
At our centre we offer in-person and live-streamed Buddhist meditation classes, teaching how to control our minds and pacify our delusions through meditation and practical methods that we can incorporate into our busy, modern lives.