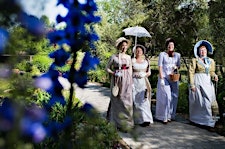 Lady Jane Productions
Lady Jane Productions (LJP) builds community through the Arts.
We come together to enjoy shared experiences, building connections with the people in our communities. These connections help us to experience personal growth, build relationships, and have fun.  
LJP facilitates community growth by organizing Living History Events that are artistic in nature, and by promoting well-being through our intrinsic need to socialize.  Come LIVE IN HISTORY and experience the joy of community, art, and perhaps a wee bit of dress up.  
The Fort Garry Hotel - 7th Floor Concert Ballroom • Winnipeg, MB
$22.23 - $85.88