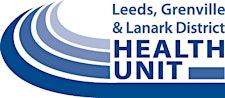 Leeds, Grenville and Lanark District Health Unit
The LGLDHU covers a 6,329 square km area in Eastern Ontario, with a population density of 25.7 people per km.  The southern part of our area borders the St. Lawrence River between Kingston and Cornwall, extending north into the Ottawa Valley. The population of Leeds, Grenville and Lanark is 170,205 people, the majority of whom live in a rural environment (58%).
Staff is distributed throughout 6 sites in the tri-county; the main office located in Brockville and other sites are in Smiths Falls, Kemptville, Almonte and Gananoque.