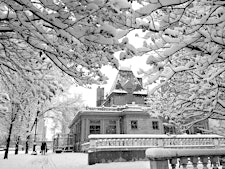 Lougheed House
Lougheed House, the Beltline's hub of cultural happenings & programs, is a National and Provincial Historic Site, Museum and restaurant, all located on our original 2.8 acres.
This 14,000 square-foot sandstone prairie mansion was built in 1891 by Senator James Lougheed and his wife Lady Isabella. It remains one of the finest residences in Canada's Northwest, and was the political and social hub of fast-growing Calgary until 1938.
We offer preservation and interpretation of this home, the Lougheed family and early Calgary. We also offer spectacular flower and vegetable gardens (free) and indoors (with paid admission) we offer self-guided and audio tours, historic interpreters (if booked in advance) and year round revolving exhibits, concerts and happenings produced with our cultural collaborators.
Sorry, there are no upcoming events