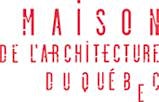 Maison de l'architecture du Québec
Catalyseur de créativité architecturale depuis 2001, la Maison de l'architecture du Québec (MAQ) est un centre de diffusion de l'architecture québécoise actuelle qui agit pour le développement d'une culture de l'architecture, en lien avec ses praticiens actifs ici et aujourd'hui, par le biais d'expositions, de laboratoires, de publications, d'ateliers, de débats et d'activités éducatives. La MAQ milite par son action pour la reconnaissance des arts de l'aménagement en tant que formes d'art majeur et en tant que besoins essentiels dans la vie de tous et chacun.
///
The Maison de l'architecture du Québec (MAQ) artist-run centre has been a catalyst for architectural creativity since 2001. It promotes the development of architectural culture in Quebec and Canada in line with today's practitioners through exhibitions, laboratories, publications, workshops, discussions and educational activities. MAQ advocates for the recognition of urban planning and landscape architecture as major art forms and an essential part of everyday life.
Sorry, there are no upcoming events