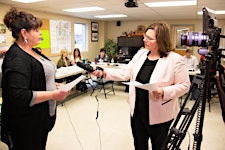 M.D. Bruce & Associates Ltd. and Grant Cree Event Media
Our principle trainer, Shawna Bruce, has more than 35 years of communications experience as both an Army Public Affairs Officer, and as the Public Affairs Manager for Dow Chemical Canada. Her hands-on experience in the military and industry is shown through her engaging training programs.
Shawna's media training partner Grant Cree is a freelance video journalist who works with regional news outlets to delivery community news to residents.  Grant is also a documentary producer for the Canadian military, and has extensive experience in media training.    
Sorry, there are no upcoming events