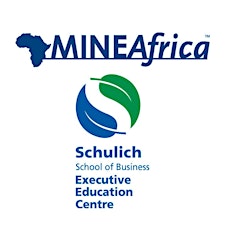 MineAfrica Inc. and Schulich Executive Education Centre
About MineAfrica Inc.
MineAfrica is a business development and marketing company providing the premier platform, since 2002, for mining companies, advisors to the mining industry, service providers and governments to promote themselves to a senior level, Africa focussed audience of financial institutions, analysts, mining executives and media. Under its MASTERMINING brand it delivers educational and training related to the natural resources sector. It also delivers seminars and programming under its mineLatinAmerica brand.
About Schulich Executive Education Centre, Schulich School of Business at York University
SEEC is a strategic business unit within Canada's leading business school, the Schulich School of Business, York University, providing lifelong learning for the development of professionals and
executives. It has earned a reputation as a global leader for its innovative programs and services in variety of industries, including natural resources under its Global Mining Academy.
Sorry, there are no upcoming events