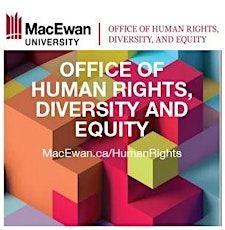 Office of Human Rights, Diversity, and Equity
At MacEwan University, we welcome everyone. We respect human rights, celebrate diversity and embrace equity and inclusion. We build human rights champions who influence our community both within and beyond the university's walls.
The Office of Human Rights, Diversity and Equity works with the entire MacEwan community to build a campus that is free from discrimination. We can answer your questions about human rights policies and support your ideas for initiatives that promote diversity. If you have experienced discrimination on campus, we can guide and support you.
Sorry, there are no upcoming events