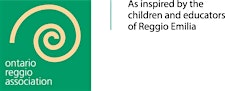 Ontario Reggio Association
The Ontario Reggio Association welcomes educators, parents, and all who are interested in participating in dialogue with the work of the Infant-Toddler Centres and Preprimary Schools of Reggio Emilia, Italy. In this way, we will deepen our understanding of what is possible when children are seen as creators of culture, as citizens in a democracy and protagonists in their own learning, in a context of co-inquiry with teachers, parents, and the community.
Our respectful relationship with Reggio Children offers provocation to our understandings, and liberation from our certainties. We provide opportunities for communities of learners to participate in conferences and site visits across the province, as well as excursions to other places that are similarly involved in learning from the inspiration of the Reggio philosophy.
Please check this website for notices of upcoming opportunities to think together about how we might elevate our communities' views of children, teaching, and learning.
Sorry, there are no upcoming events