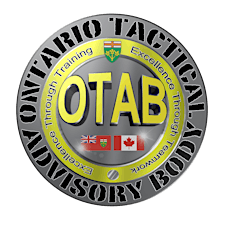 Ontario Tactical Advisory Body
The Ontario Tactical Advisory Body is branch of the Association of the Ontario Chiefs of Police. We currently have 36 member Teams across the Province and are growing to include Units in Quebec Saskatchewan, and Manitoba. The Member Teams range from 6 member Containment Teams to 90 member Hostage Rescue Teams, as well as Armed Tactical Security.
Our executive in comprised of 4 Volunteer members throughout the province.
The Body was established from the recommendations made during a Coroners Inquest in 1987. The recommendations were that Tactical Units across the Province need to form an organized Body with the mandate to provide a voice and a venue for the Tactical Community in Ontario.
This Body will facilitate Communication, and the Sharing, Learning the latest and best Tactical practices to all the member units. This done through facilitating and advertising cost effective training courses, tactical debriefs, lessons learned at major incidents, quarterly meeting, and our website.
We are the voice of the Ontario Tactical Community in Ontario and feel that we have succeeded in doing so while growing our organization.
Sorry, there are no upcoming events