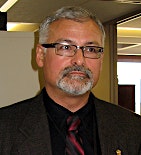 Randal Adcock
Randal Adcock is leading a new initiative to help support people to manage themselves, their organizations and their communities in the complex 21st Century.  He draws on his education and experience in community and business development as well as his extensive research into civil science -- the integration of systems, social and management sciences. 
The Global Brains Co-operative builds on global trends toward integration of personal, organizational and artificial intelligence. In recent years it has become more clear that the essence of life is intelligence and that the essence of intelligence is copying, i.e. pattern recognition and replication. It has also become more clear that intelligence can be found, not only in biological organisms like you and me, but in the cells of which we are made and in the civil and ecological systems in which we are embedded. New discoveries lead to new inventions.
As our civilization gets exponentially more complex and uncertain, individual decision makers have to become more creative in order to manage their affairs effectively and efficiently.  We have an opportunity to shape the mega-trends and lead the innovaion of a new intelligence platform that cuts across technology and methodology, from theory to practice and to better theory. At the same time, we must wisely learn how to remain value-oriented.
Sorry, there are no upcoming events